Former home of the 18th-century master exhibits the lesser-known works of Cedric Morris, thanks to Maggi Hambling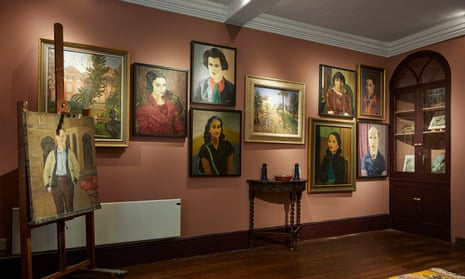 When the first visitors cross the threshold of the refurbished Gainsborough House, the childhood home of the artist Thomas Gainsborough in Sudbury, Suffolk, on Monday,the work of another, less famous, local artist and knight of the realm will be competing for attention.
Cedric Morris, plant enthusiast, landscape painter and portraitist, is being celebrated for the first time in the museum, which has undergone a £10m revamp. An entire room has been filled with his paintings, some of them given by the renowned artist and sculptor Maggi Hambling. The new space, set up in the grand former home of one of Britain's best known 18th-century artists, will boast 15 of Morris's works. "People may already know his flower paintings, but there is so much more. And there has been such a renaissance in Cedric's standing, and new interest, that we wanted to dedicate a permanent display," said Mark Bills, director of the new museum and gallery.