Velma review – Scooby Doo's brainy bud gets a spunky re-imagining
Mindy Kaling reintroduces the animated mystery-solver for an older audience and gives her a string of fun, spooky and sly new adventures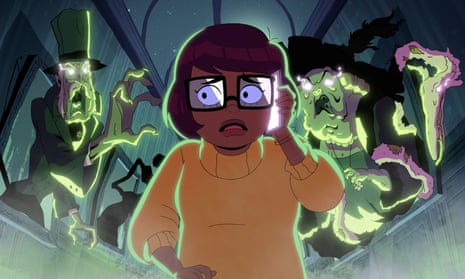 There was always something about Velma, the brainy and bespectacled teen sleuth in the Scooby Doo gang. After decades of speculation over her romantic leanings, a 2022 Scooby Doo movie confirmed that Velma is, indeed, a lesbian. The Saturday morning cartoon icon is back, still with the pumpkin-colored turtleneck and potbelly, now wearing Martin Scorsese glasses and anchoring an anarchically funny eight-part spinoff series.
The latest iteration barely bats an eye at the sexuality storyline. Helmed and voiced by Mindy Kaling, the new Velma is too quick and dry-witted to get bogged down with the yearnings of a cartoon character – or, for that matter with any single subject. In Kaling's immensely enjoyable and zippy reimagining, Velma is crudely drawn proof that life is too short to pledge loyalty to overarching themes or storylines. A master of moving fast and freewheeling (during lockdown she released The Sex Lives of College Girls and Never Have I Ever, all while establishing a book imprint with Amazon and having a second baby), Kaling brings her A-game to this goofy project, which she made with Charlie Grandy, her longtime collaborator.
Episode one is a bit of a fake-out. It starts with a cluster of high school girls taking a group shower. Velma's foxy frenemy (and future love interest) Daphne (Constance Wu) muses: "Have you ever noticed how pilot episodes of TV shows always have more gratuitous sex and nudity than the rest of the series?" It's a steamy if unimaginative open that calls to mind Mike White, who starts each season of his White Lotus series with a dead body before allowing himself to dive into the infinitely more pleasurable waters of the tart dialogue and character study at which he excels. The first installment of Velma needs to release the so-so sex jokes and camp overkill before it gets its bearings.
By the second episode, we're off and running. For Kaling, the show's spooky storylines (there's a missing mystery writer mother, an underground network of criminals and a serial killer on the loose) are an excuse to spend hours deploying the ingenious one-liners she's known for. This isn't just a show for Kaling fans; Scooby stalwarts won't be disappointed by the ample cobwebs or the psychedelic color palette. Against the retro-drippy backdrop, though, Kaling weaves in jokes about the paradoxes that go hand-in-hand with femininity, patriarchy and power. She takes aim at wine-worshipping mom culture and social media idiocy. She dares to riff on the current fashion for minority-owned small businesses and Velma's brown skin (a recurring joke has characters unable to guess Velma's ethnicity).
Even more audacious, perhaps, is something Kaling incorporates without any meta commentary: all the members of the reimagined gang are minorities but for one character, Fred Jones, who is white. (The dog is not back in the band, owing to issues securing the rights, though an eerily similar canine does make an appearance in one hilarious sequence, featuring a clog-wearing plein-air painter.)
Velma is plenty busy ostensibly looking for her missing mystery writer mother, but really freestyling her way through the trippy-drippy world, accompanied by her lawyer father (whose inattention to Velma is only matched by his inattention to his bad hair dye), the wannabe momfluencer he's taken up with (and impregnated), and Fred, the entitled heir to an accessories fortune who turns out to be more than just a vanilla villain when Velma slips him a copy of The Feminine Mystique and inspires his great awakening and new obsession with the gender pay gap.
So look past the copulating cockroaches and anatomy jokes that hinge on baby carrots, won't you? Velma is a supernatural spoof at its most beautifully chaotic.
Velma is available on HBO Max now and in the UK at a later date