Turn Every Page: a peek into Robert Caro and Robert Gottlieb's long creative relationship
In a new documentary directed by Gottleb's daughter, the 50-year partnership between the acclaimed author and the renowned editor is examined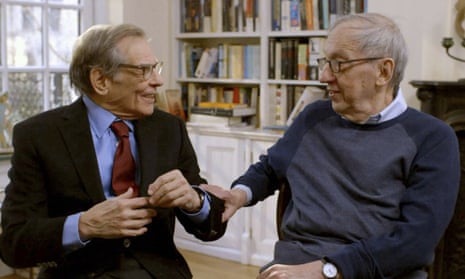 The director Lizzie Gottlieb was hosting a birthday party for her father, the renowned editor Robert Gottlieb at her Brooklyn brownstone when she struck up a conversation with one of the many guests. "A lovely older gentleman came up to me and said, 'What do you think of the Barclay's Center on Flatbush Avenue and how do you think it'll affect the neighborhood?' I started spouting completely uninformed, random opinions." Mid-sentence, she came to a realization. "It was Robert Caro, and I was talking to him about New York City infrastructure."
As one of the most respected living authors of the written word, 87-year-old Robert Caro has actually only authored six books, from The Power Broker, his 1974 opus about New York City planner Robert Moses to an epic, and still unfinished, series focusing on the life of President Lyndon Baines Johnson (more on that later). It's a body of work that shines a stark spotlight on power; from the thirst some have for it, how they obtain it, and how the world – and the powerless at large – are shaped by their whims. As a result of his scrupulous and exhaustive research, vivid storytelling and poetic prose, Caro has become a cult figure. The latest facet of his lore is the new documentary Turn Every Page. Directed by Lizzie, it zeroes in on Caro's creative relationship with his 91-year-old editor, Robert Gottlieb, who also happens to be Lizzie's father.
"I heard Bob Caro give a speech about my father when he was presenting him with an award and he talked about everything from their incredibly productive relationship to fights over using the semicolon," Lizzie recalls of her earliest inclination to take on the project. "I thought, 'This has to be a movie.'" Titled after a well-known Caro-ism that alludes to the dogged pursuit of research he picked up while a young journalist in Long Island, New York, it serves as a reminder of both Caro and Gottlieb's immense success and influence. "I wanted to lift the curtain on this alchemy of a creative collaboration that has gone on for 50 years and counting."
That the two men are still pillars of their craft after first coming together in the early 70s is a testament to both their talent and an inherent passion that fuels their longevity. Lizzie has had a front-row seat to her father's stunning career since she was a child. Lizzie recalls: "Growing up, there were always people staying on the top floor and boisterous dinners. My house was full of life, animated and fun to be a kid growing up in that house."
Aside from his work with Caro, the list of books Gottlieb has edited reads as some of the most monumental of all time, from the work of Nora Ephron and Toni Morrison, to Chiam Potok's The Chosen. Gottlieb edited a novel by Joseph Heller originally titled Catch-18, but because another book coming out had the number 18 in the title he suggested 22 instead. As a result, Catch-22, both literary infamy and the indelible phrase, was born. When President Clinton penned his 2004 autobiography My Life, the former commander-in-chief was edited by, yes, Gottlieb as well (Clinton also appears in the documentary).
Along the way, his legend inevitably became entwined with the enigmatic Caro's. "When I called Bob Caro about being in the film, he said he doesn't speak publicly about his writing process but he'd be willing to think about it because he's seen my other films," explains Lizzie, who previously helmed the 2012 documentary Romeo, Romeo about a lesbian couple's quest to have a baby. "Over the course of our conversation, he said, 'I've never seen a film about a writer and an editor and I think it could be meaningful, but my one condition is that I will not appear in the same room as your father on camera.' It was an irresistible challenge to make a buddy movie with two guys who wouldn't be seen together."
It just so happened that Caro was about to experience a renaissance of sorts, with the author peeling back the curtain on his process in his only personal work to date, 2019's Working. The following year, the Zoom-era of the pandemic made clear that the familiar spines of his books were must-have shelf-staples for writers, politicians and journalists (The New York Times called The Power Broker "the break-out star of the Covid-19 era"). Along with a recent theatrical release of the documentary, Caro is also the subject of an exhibit of his archives at the New-York Historical Society.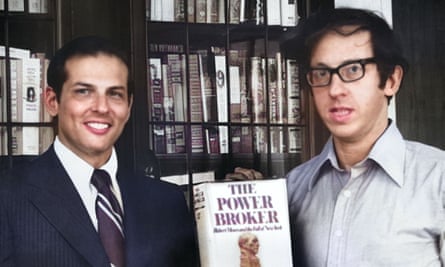 According to Lizzie, in an era of fake news and a plague of misinformation "Caro serves as the counterweight to all of that. He's a person who is still working to doggedly uncover the truth of how power works in America, for good and for ill. I think he feels like a meaningful touchstone; it's calming and soothing to know you can trust the work he has done and is continuing to do. He reveals the effects of power on the powerless, which is something we're all grappling with right now."
But with an impressive longevity comes an unavoidable fact: with both Caro and Gottlieb's respective ages, they are "in a tortoise-like race against time to finish their life's work", as Lizzie puts it. It's a fire that burns under its subjects and propels the documentary forward. "For me, a film really works and becomes dramatic, emotional and meaningful when there's something big at stake. Now, more than ever, there's so much at stake for them, for us the readers and me, the daughter of one of them."
What's specifically at stake is the long-awaited fifth and final book in the life of Lyndon Johnson, the release date of which is tantalizingly unknown. With its most recent installment being 2012's The Passage of Power, Caro and company are characteristically cryptic about the follow-up's progress. Caro has said in the past he's planning a pandemic-postponed trip to Vietnam in order to immerse himself in the culture of the country, considering Johnson's legacy is defined by that brutal war. Caro lived in Texas Hill Country for a time to comprehend what Johnson's childhood there was like for The Path to Power's debut.
"I think the reason why Bob Caro is still speaking to me is that I never ask him when the next book is coming out," Lizzie says with a laugh. "I was in his office recently and he definitely closed the door in the room which had the outline up on the wall, as he should." This was a man who stubbornly went broke and blew past every deadline during his quest to research and write The Power Broker, after all. "I know he's working unbelievably hard and I know he'll finish the book, but I do not know when."
Regardless of its release, Lizzie points to a key moment in the film when it comes to understanding the complementary mindsets of the two men. "My father says in the film that Caro is industrious," she explains. "And then he said something that really cracks me up: anyone can be adorable, but not everyone can be industrious. To me, they are both adorable and industrious. For any of us trying to make anything, that's the goal."
Turn Every Page is out now in US cinemas and in the UK at a later date