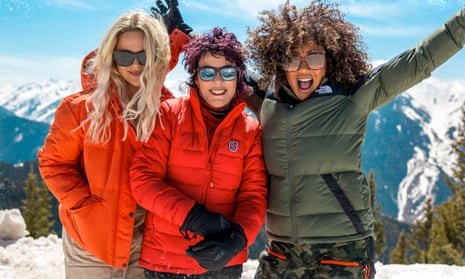 Ruby Wax, Mel B and Emily Atack head to the wild west to follow in the footsteps of an inspiring 19th-century explorer. Chaos soon reigns
It is an odd throuple, as Ruby Wax admits early on in her new three-part travel series, Trailblazers: A Rocky Mountain Road Trip (BBC One). "You might be thinking, what am I doing in the middle of the wild west with a Spice Girl and an actress?" she asks; presumably Wax, Melanie Brown and Emily Atack aren't usual holiday mates. The answer is, of course, to pay tribute to a near-forgotten 19th-century female explorer named Isabella Bird, who made her way, on her own, across the Rocky Mountains in 1873. Bird is a personal hero of Wax's, although why Brown and Atack are here is glossed over. They are trailblazers, too? That'll do.
It doesn't really matter, because together they make for entertaining company. Wax reminded viewers of her calibre as a TV host with last year's When Ruby Met … retrospective, and she does have an uncanny ability to harness chaos at the same time as cause it. This makes her very watchable. Atack says she needs to get off Instagram and see the world, while Brown is there seemingly to keep an eye on Wax's driving skills. If anyone remembers Maureen from Driving School, the comparison is not unfounded. They bicker like an old married couple ("Piss off, Ruby!") and there is a familial dynamic here. It's not unexpected when Atack calls one of them "mum".