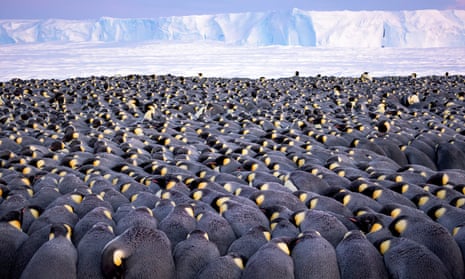 From Stefan Christman's absorbing studies of emperor penguins to Sebastião Salgado's stunning images of unpeopled wilderness, these are richly rewarding voyages for armchair explorers
As a former biologist turned natural history film-maker, I've been lucky enough to visit the polar regions – both the Arctic and Antarctic – on quite a number of occasions. From an initial science cruise with the British Antarctic survey to months in the Canadian Arctic filming marine animals and local people for the first Frozen Planet, and a remarkable expedition to Zavodovski Island, the largest penguin colony in the world, these visits have been extraordinary experiences. Far from being remote and hostile, these are places that get under your skin, that leave you breathless with the beauty of our planet, warmed by the welcome of local communities, and touched by the naive curiosity of some of its most characterful animals.
In finding stories for television from such remote lands, we often rely on the images captured by photographers and scientists working in these extremes. Their first-hand knowledge informs us of new science and what we may find if we take a film trip there.