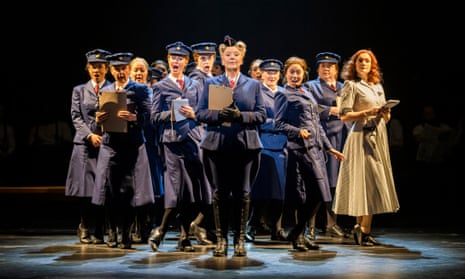 'Wit, authority and assurance with every note': Susan Bickley, centre, as Dame Carruthers, and company in The Yeomen of the Guard.
 Photograph: Tristram Kenton
Coliseum; Royal Opera House, London
ENO stands firm amid extreme funding cuts with a Gilbert and Sullivan staging full of vim and vigour, while animal magic ripples through Richard Jones's new Alcina
No apologies for returning to Arts Council England (ACE)'s funding cuts. The headlines are last week's but the impact of a single announcement will ricochet through lives and livelihoods for years, starting now. Trimming costs in hard times makes sense. Giving new contenders, all over the country, a slice of the pie is fair. Cutting down, in one wanton act, an entire forest of hard-won achievement is beyond reason or redemption. To penalise a capital city, one of Europe's most populous and culturally magnetic, is economic folly, quite aside from any other criticisms that might be levelled.
Many issues will arise in the aftershock. They will be addressed in months to come. For now, a reminder of the worst hit areas for musicians, inevitably barely mentioned in news reports. Contemporary music, the future of the art form, has been hammered. The London Sinfonietta – more than 50 commissions and world premieres in the past four years alone – has lost 41% of its grant. Manchester's brilliant Psappha ensemble, an invaluable platform for new work in the north-west, has had its status withdrawn as a National Portfolio organisation (NPO) – not one of the fortunate 990 announced for the 2023-26 investment round eligible for a share of the £446m available across all the arts. Most baffling of all, the peerless Britten Sinfonia has been similarly deprived: a low insult to one of the most inventive of UK ensembles, which works closely with composers and serves the orchestrally impoverished east of England and beyond.