The first Broadway show celebrating Korean culture hopes to show there's 'more to K-pop than just Gangnam Style'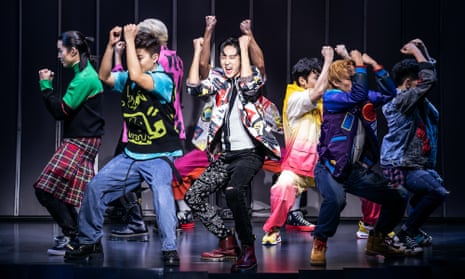 With her ice blond hair, kaleidoscopic costumes and melismatic high notes, the South Korean solo artist MwE (pronounced mu-WEE) looks the part of a bona fide K-pop idol, the model of a hyper-visible cipher. Fellow girl group RTMIS (pronounced Artemis) boasts similarly convincing stage confidence, while boy band F8 (pronounced Fate) approaches the delivery of English and Korean lyrics and kinetic choreography with enough militaristic precision to draw whoops from a crowd of about 600 at New York's Circle in the Square theater on a recent Wednesday.
The trio are, on one level, the stable of acts meant to introduce a Korean pop label to American audiences in a one-night only concert debut. They are also, in one of many meta moments, the fictional backbone of KPOP, a new musical introducing the chart-dominating genre to Broadway. The eardrum-shaking show, which opened last week after a long pandemic delay, straddles the line between Technicolor bilingual concert and musical theater, blurring Broadway conventions with arena pop adrenaline; four of the 18 cast members, including Luna as MwE, double as real-life K-pop idols.