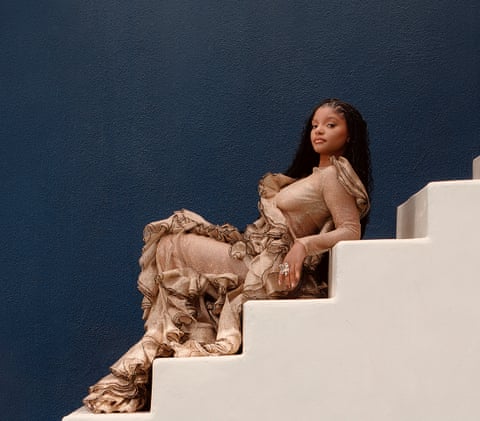 Halle Bailey photographed in Los Angeles, May 2023. Styling: Anna Su. Bailey wears dress by Christian Siriano; ring by Bad Binch TongTong x MonSecret. Photograph: Erik Carter/The Guardian
The Little Mermaid's Halle Bailey: 'As a child, seeing a black Ariel would have changed my life'
From tween YouTube sensation, to pop star, to Beyoncé's tour mate … now the actor and musician is about to star in the live-action remake of the Disney classic. She talks about overcoming self-doubt, her soulmate sister Chlöe, and a racist backlash
Inside Halle Bailey's apartment, in West Hollywood, the 23-year-old singer and actor is glowing in the early morning sunlight. This is not interview hyperbole: she really looks as though she is glowing. Rob Marshall, the director of The Little Mermaid, said he cast her as Ariel because she had an "otherworldly sensibility", and, instantly, you can see what he means. Yesterday, an important package arrived. It contains a collection of Disney merchandise: branded water bottles, shirts, Ariel dolls. This stuff, with her face on it, will soon to be in the homes of countless parents with small children all across the world. "I was astounded at how cool all of it is," she says, sweetly. "Like, insane."
Bailey is a Disney star cut from old-fashioned cloth. She is impossibly polite, awestruck by her new life as a Disney princess, ignoring the negativity – more on that later – and seemingly utterly lovely and unflappable, or at least well media-trained, or probably both. She offers opinions, but is careful to balance them out: she misses her home town of Atlanta, Georgia she says, but, equally, she loves Los Angeles. Somehow, despite the imminent release of a reported $150m-200m blockbuster that will ultimately rise or fall on her performance as a character already beloved by millions, she is perfectly calm.
The original Little Mermaid came out in 1989, as the Aids crisis raged, adapting the Hans Christian Andersen fairytale into an animated children's film that remains a top five contender in any list of the best Disney films of all time. It has a history of being more subversive than it might initially appear. Ursula, the sea witch, was based on the drag queen Divine, while Ariel's dissatisfaction with the constraints of her life under the sea have long been viewed as a metaphor for coming out. Or, if that doesn't work for you, you might prefer to see the film as "a beautiful story about a young woman changing her core identity to please a man", as the comedian Trevor Noah joked on The Daily Show last year.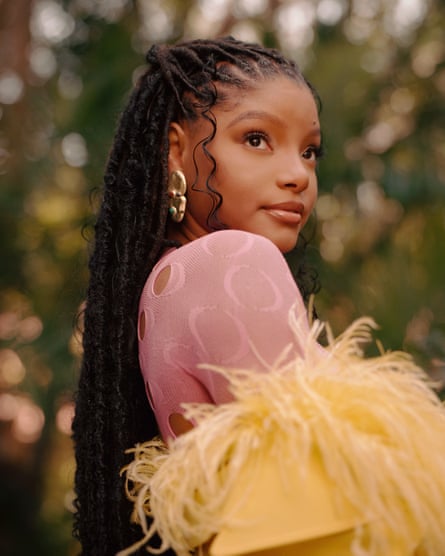 In 2019, it was announced that Bailey had been cast in the forthcoming live-action remake. At 19, she was already a pop star. As one half of the duo Chloe x Halle with her older sister, she had been in the public eye since they became YouTube famous as younger teens. "Suddenly, there are a lot more eyes on me than I ever would have thought," she says, adding that she tries not to think about it. When news of her casting broke, the racially charged hashtag #NotMyAriel trended on Twitter. It continues to re-emerge when a new trailer or poster appears, with clips or teasers, for example, being strategically "downvoted".
Given the extent of the noise, is it really possible not to think about it? "Yeah, we're all human beings, so if we see anything negative about ourselves, of course it's going to hurt or sting a little bit, especially remarks like those. I expected it, honestly."
Her breezy front gives way a little. "I mean, yeah. The world we live in today, just being a black woman, you have a certain awareness that comes with life, in general. So I wasn't very surprised or shocked. I think it's just the way that you respond and move, and know that inside you're worthy, and you're here for a reason."
Bailey received widespread public support, including from Jodi Benson, who voiced Ariel in the 1989 film, and Halle Berry, who tweeted: "This means so much! Can't wait." When the first teaser appeared in 2022, TikTok filled up with parents filming young black children, astonished and overjoyed at what they saw: this new Ariel, swimming up through the wreckage of the ship, into the light, was black, too. This is what mattered to her. "Because I feel like, if I would have had a black mermaid, that would have been insane, that would have changed my whole perspective, my whole life, my confidence, my self-worth. You're able to see a person who looks like you, when you're young? Some people are just like, oh, it's whatever, because they've had it their whole life. It's nothing to them. But it's so important."
Who did she look up to when she was growing up? "A lot of musicians, amazing black women who were singers, like Jill Scott, Erykah Badu, Janelle Monáe, Alicia Keys, Beyoncé … " Her eldest sister, Ski, had Destiny's Child posters on her bedroom wall. "I remember growing up and feeling like I had a lane I could pursue because of these women. They made me feel confident in the skin I was in."
Bailey is one of four children. As well as Chlöe and Ski, she has a younger brother, Branson. They are all close. She was raised in Atlanta, and you can still hear traces of the accent. When she was about three, she began appearing in advertisements. "Little print commercials," she explains. "People would come up to my mom and say, 'Oh, they [she and Chlöe] should model'," she says, laughing. "My mom was like, really? Sure. And next thing you know, I'm modelling and doing photoshoots and little commercials in Atlanta and things here and there."
Acting wasn't her main ambition. "Music took over when I was very young," she says. Halle and Chlöe taught themselves how to play instruments by watching videos online. When they were 11 and 13 respectively, they posted a clip to YouTube, singing Beyoncé's Best Thing I Never Had, and, later, Pretty Hurts. The videos took off in a big way. In 2012, their viral success earned them an appearance on The Ellen DeGeneres Show. The whole family moved to Los Angeles, so that Chlöe and Halle could pursue their musical dreams. Their father, Doug, was their manager for a long time, though when I ask if that is still the case today, Bailey says it is not. "Mmm-nnn," she says, shaking her head. When did that stop? "I don't know the exact pinpoint for it. A few years ago? Maybe, like, two years ago?" The family ties are loosening: while Halle has made inroads into the Disney world, Chlöe has just released her first solo record.
Beyoncé is a big part of their success story. Chlöe had already played the younger version of Beyoncé's character in the 2003 film The Fighting Temptations, about a gospel choir in Georgia. When Beyoncé set up her management company Parkwood Entertainment, Chloe x Halle, as they were then known, were one of the first acts she signed, giving those viral covers the official seal of approval. They toured arenas with her as her support act, and appeared in the videos for the album Lemonade. Is Beyoncé a mentor? A friend? "She's all of the things, honestly. A mentor, a friend, a sister, an aunt," says Bailey. "I mean, she's an icon. She's a legend. And the way that she just carries herself and holds herself – it feels as though she's normal, like a regular human being. But I'm like, 'You're Beyoncé'," she says, as if in awe.
Even after all these years of working together, you still feel that way? "Yeah, of course! There's moments where you sit with her, and she's a regular person, like you and me," she says, kindly. "It's cool. But then you see her become a superhero on stage." In 2020, Beyoncé presented the sisters with a Billboard Rising Star award. "You manage to shine in every room you enter, and I'll always love you," she said.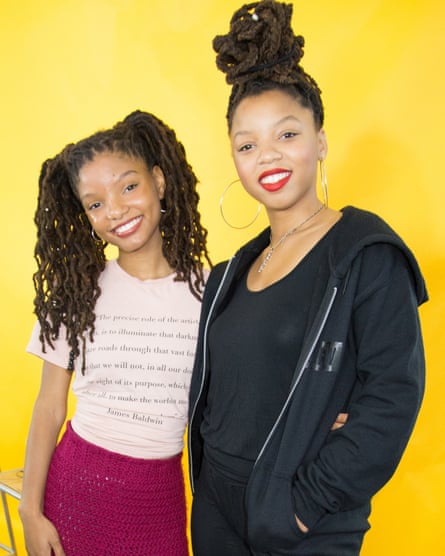 Halle was 13 and her sister 15 when they became pop stars. As Chloe x Halle, they have released two albums, though in 2022 they got their own, individual social media accounts, and Chlöe released her solo album, which Halle is quick to plug ("Her album, In Pieces, is a beautiful, beautiful work of art"). I ask if it feels odd to be working on her own, after so long together. "It doesn't feel odd or awkward at all," she says, firmly. She is fiercely supportive of her sister, and says Chlöe is the same when it comes to her. "She's a big part of the reason why I was able to be OK every time I walked on that Little Mermaid set. She came to London with me for the first month, just to make sure I was OK. She was like, 'You're good, you can do this', and then she went back home." Their "independent journeys", as she puts it, were inevitable, "but we're never far away from each other".
Together, they were nominated for five Grammy awards, worked hard, played the game, toured the world. It meant that Halle essentially grew up in the spotlight. "It's part of the reason why I feel so at home on stage, because that was my home for a lot of my childhood."
Has it made her more mature than other 23-year-olds? I imagine not many of her peers were doing their homework on the tour bus, waiting to open for Beyoncé. "I feel more mature in certain areas of life," she says. Business is easy for her, for example. "I feel like a woman when I'm in those lanes. But something so simple as being at home, or doing errands, I feel like, oh my gosh, this is a big deal." She pauses. "Because I didn't have the regular bricks-and-mortar way of schooling, I didn't go to prom, I didn't experience those things. So in my personal life, it feels like I'm experiencing a lot of things for the first time."
Is it a kind of delayed adolescence? "Yeah. You said it perfectly. I guess it's not just errands. It's living alone for the first time." She moved out of the family home three years ago, though much of that time was spent making The Little Mermaid in the UK. Now Chlöe has an apartment in the same building as Halle. "We're on different floors," Halle says. "So I have my own space, but we're not too far from one another." Chlöe's cat, Apollo, occasionally makes an appearance on our video call, chasing Halle's cat, Poseidon, around the room; she is cat-sitting while Chlöe is on tour.