Yes, this book adaptation – about a couple who fall in love while timesharing an apartment – has the stupidest series hook of all time. But it's fun, tight – and great hangover TV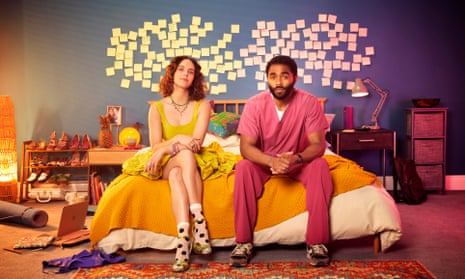 Iused to be quite cynical about romcoms. Oh the two leads are going to fall in love, are they? Will they squabble when they first meet, then slowly grow to bring the best out of each other? Perhaps she has two men to choose from and one is the worst man on the face of the planet, yes, but he is sexy in quite a dangerous way? At some point will she fall over and suffer a very minor injury? Will there be a series of avoidable misunderstandings leading to a second-act argument that threatens to derail everything? Finally kissing in the snow? Come on. Give me a break.
But then I grew up. I'm sorry, but you can't watch subtitled arthouse Cannes hits when you're hungover. Sometimes you need something simple and tropey and soft-edged. Because of that – because the romcom is, at its core, the same story told over and over again – it's actually quite difficult to get it right. People know what they want, and they have a dozen immaculate examples of the form they can rewatch if your attempt doesn't give it to them. First, the two actors have to have irresistible, smile-on-your-face-to-watch-it chemistry (you need to want them to fall in love). Second, the machinery that is pushing them together needs to be as stupid and as goofy as possible. Third, at least one of them has to work a lowly job at a magazine. It's not vital but it is useful if the sexy badboy of the equation has a motorbike. The Flatshare (Thursday, Paramount+) has completely fulfilled this brief.