The Estate review – Toni Collette and A-list cast add class to sweary, crass comedy
Kathleen Turner stars in boorish tale about a wealthy old woman whose family descend to get her money when she is dying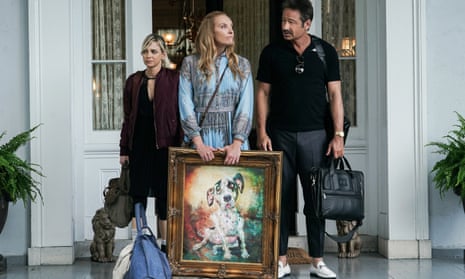 In 2007 and 2010 British writer-director Dean Craig gave us the farce Death at a Funeral (the latter, a US remake, directed by Neil LaBute), of which I must admit I was never a fan. But there is something in the relentless bad taste in his new all-star black comedy – something in the fanatical emphasis on the importance of the exposed penis in all its unimpressive smallness – that is actually weirdly effective.
Kathleen Turner plays Hilda, a cantankerous, disagreeable and extremely wealthy old lady who is dying of cancer, and finds that her greedy and unctuous nieces and nephews all show up, hoping for a slice of the will. These are Macey (Toni Collette), Savannah (Anna Faris), Richard (David Duchovny) and Beatrice (Rosemarie DeWitt), along with Beatrice's bewildered husband James (Ron Livingston). To get into Aunt Hilda's good books, Savannah and Macey track down their aunt's high-school crush to give her a sentimental reunion with him, but disaster beckons when Hilda is so entranced she decides she wants to marry this old man thus making him her sole beneficiary.
Yet Savannah and Macey have still one chance to sabotage the wedding: they know that her fiance is a registered sex offender in recovery who will relapse if he touches alcohol. So the plan is to get him drunk on the morning of the wedding day and use their younger sister as bait to sexually excite him so will drop his trousers and start vigorously masturbating, just as lovestruck old Aunt Hilda comes into view in her wedding dress. What can possibly go wrong?
This is a very silly and fantastically crass film, and there is something magnificent and horrible in the scene when the old flame's penis does indeed make an appearance outside his trousers; despite or because of these things it is often funny. Added to which, the very impressive cast give it everything they've got; nothing with Collette in it can be bad.