The Book of Vision review – dreamlike drama treads fine line between Terrence Malick homage and parody
Carlo Hintermann's feature debut is a sometimes bizarre exploration of spirituality and obsession but it is hard not to succumb to its exquisitely rendered mysteries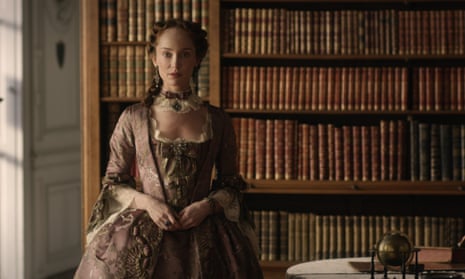 Terrence Malick is an executive producer of this arthouse drama – and a poster of his 1973 classic Badlands hangs on the wall of an apartment in one scene. I suspect The Book of Vision's director Carlo Hintermann might be Malick's number one fan. He once made a documentary about Malick, and was a producer on Tree of Life. This film is his feature debut, and depending on your point of view, it could feel like either a parody of or homage to his film-making hero.
The plot flits between the 18th century and now, with the same actors appearing in both. In slightly refrigerated present-day scenes, Lotte Verbeek plays a surgeon, Eva, who has become obsessed with an 18th-century Prussian physician. This is a Dr Anmuth, who believed that understanding the dreams and inner lives of his patients could help heal their physical aliments. Eva is also secretly pregnant, but she's living with a heart condition. So her own doctor, magnetically played by Charles Dance, recommends a termination.
In flashbacks, Dance also plays 18th-century Dr Anmuth, while Verbeek appears again as an aristocrat's wife Elizabeth, one of Anmuth's patients. There are some exquisite scenes here, dark, rich and painterly like a Vermeer come to life. And it's here that the plot takes a turn for the bizarre. Locals accuse one of Anmuth's servants, Maria (Isolda Dychauk), of being a witch. When she miscarries, Maria carries her baby to an old tree: its roots absorb her baby back into nature. In the forest, actors slathered in oozing sap lurk – like spirits of the trees.
At this point, you may feel the film disappears into its own navel. I'm not sure it entirely stands up. Seen from one angle, its spirituality can feel a bit cringeworthy or half baked. But I found myself giving into its mysteries.