Grant is a suave stranger who stirs up the strained marriage of Niven and Loretta Young in this fey but beguiling seasonal tale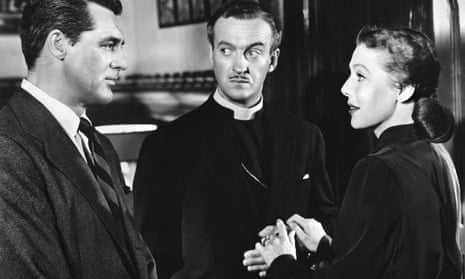 There's an unworldly charm and odd, innocent solemnity to this Christmas fantasy comedy from 1947, now on rerelease, directed by Henry Koster and starring Cary Grant, David Niven and Loretta Young. Niven plays the sobersided Bishop Henry Brougham, a decent but now careworn man whose overwork has lately caused him to neglect the happiness of his sweet-natured wife Julia (Young) and infant daughter Debby (Karolyn Grimes). As the Christmas season approaches, the bishop is becoming a veritable Scrooge, a role he effectively shares with the wealthy widow Mrs Hamilton (Gladys Cooper). She was instrumental in getting him the bishop's job in the first place, and is now exhaustingly stringing him along with a promise to fund the building of a vainglorious new cathedral with which the bishop has become wholly obsessed – but only if it includes a vulgar monument to her late husband.
Julia never gets to see her husband or their old friends, like the genial, peppery old professor (Monty Woolley) who is working on his magnum opus about ancient Rome. Poor Henry, aware that things are amiss, prays for guidance, and out of the blue, a beautifully tailored angel descends: Dudley, played with an opaque and unreadable suavity by Grant. Dudley is going to give Henry what he needs, not what he wants.