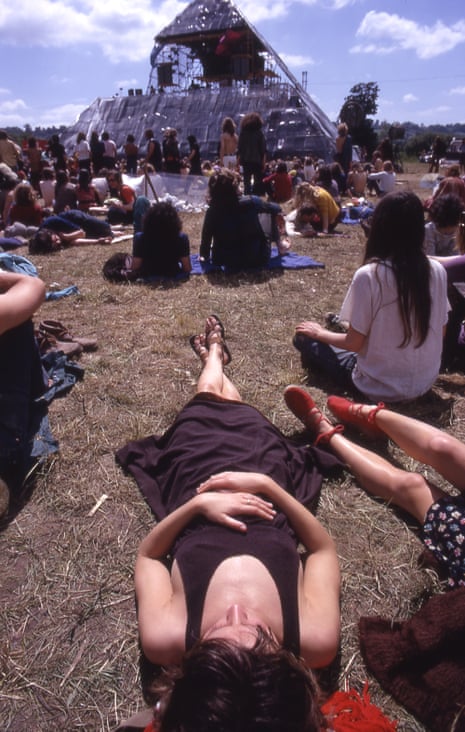 The big picture: birth of the Pyramid stage at Glastonbury, 1971
Fashion photographer Paul Misso attended the first festival with the now-famous stage, and captured a world of stoners, hippies and free entry
In 1971 the second Glastonbury festival was marked by the construction of the Pyramid stage. Designed by Bill Harkin, the structure was planned at one tenth the scale of the Pyramids of Giza and built from scaffolding and metal sheets on what was considered an auspicious ley line at Worthy Farm in Somerset. More than 7,000 people camped out around the pyramid to see acts that included David Bowie and Fairport Convention. Glastonbury Fayre, as it was called, was not advertised, but news spread by word of mouth. The weekend was free of charge, intended as a celebration of a magical time and place.
Among those first pilgrims to Glasto was the fashion photographer Paul Misso, who had driven down the A303 to Somerset in a motor caravan with Julie Christie. Christie was there at the invitation of her friend, the film director Nicolas Roeg, who planned to make a documentary about the event and wanted her famous face in the crowd. Misso was commissioned to take stills for the project.
Roeg's film never got made and for many years Misso's Kodak slides of the weekend – including this one – lay in a drawer at his home. As the Eavis family's Glastonbury event grew to become an annual fixture, he was inevitably moved to rediscover them. One shot of the Pyramid stage lit at night became part of the creation myth of the world's most famous annual music festival. Many of the other pictures, however, have never been published, and are now included in a new book: In the Vale of Avalon: Glastonbury Festival 1971. They have a prelapsarian feel. Stoners and hippies and wannabe druids, in various states of intoxication and undress, witnesses to the genesis of something, in a time before inflated ticket prices, online booking frenzies and, apparently, mud.