The $500m Romeo and Juliet case opens a new frontier for #MeToo reckoning
The question of informed consent on Zeffirelli's 1968 film has revived the historical abuses argument – will movie production companies be hit by a tidal wave of lawsuits?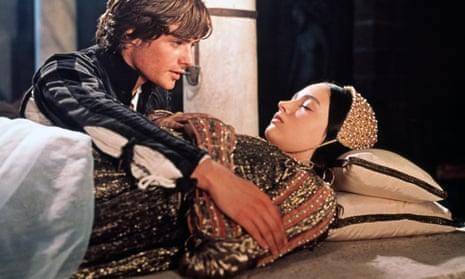 Just when the #MeToo movement looked to be getting marginalised in just the way activists had feared, a new frontier has opened up – history.
Leonard Whiting and Olivia Hussey, who as teens starred in Franco Zeffirelli's movie version of Romeo and Juliet in 1968, are suing Paramount for more than $500m for child abuse in the semi-nude scene they say they were made to do, having originally been assured by the director that this would not be necessary. This was act three, scene five – in which the star crossed, loved-up hero and heroine awake after their (secret) wedding night.
To a modern eye, it looks pretty tame: Romeo is naked face down and Zeffirelli's camera lingers on his buttocks – Juliet has the sheet pulled up almost to her shoulders but her breasts are briefly revealed towards the end of the scene.
These are, after all, children we are talking about (Whiting was 16, Hussey 15). Who knows what traumatic arguments and negotiations led up to this staging on the day, or whether the parents or chaperones felt bullied by the director on set into allowing more than they signed up to? That's if they were allowed anywhere near the set. There were no intimacy coaches in those days.
These are remembered wounds, reopened in the present day – and the whole question of informed consent looks as if it is being revived. The play itself riffs on consent, restraint and maturity when Juliet at first rebuffs Romeo's impetuous advances: "Sweet, good night / This bud of love, by summer's ripening breath / May prove a beauteous flower when next we meet." The immature "bud of love" issue could prove a legal nightmare for the studios. Their back catalogues are an income stream, but may also be a stream of lawsuits.
Romeo and Juliet itself had a footnote in history for the predatory behaviour of Zeffirelli who died in 2019: he was famously infatuated with a young Bruce Robinson, playing Benvolio. (In Robinson's later career as a film-maker he was said to have used Zeffirelli partly as a model for the lecherous Uncle Monty in Withnail and I). Now it seems that he also had an unfunny and boorish obsession with Olivia Hussey.
The film-making practices of the past and present are being challenged – because the people involved are feeling the hurt right now. The reputation of Bernardo Bertolucci was permanently damaged by his admission that in making the "butter" scene in the explicit movie Last Tango in Paris in 1972, he did not tell the female lead Maria Schneider what was going to happen before the take, having secretly discussed it beforehand with Marlon Brando. (He waited until after Schneider's death in 2011 to make this blandly impenitent revelation.)
At present, Austrian director Ulrich Seidl is embroiled in a row over his new film Sparta, about a paedophile, following allegations that he never explained the subject matter to his young non-professional performers, aged between nine and 16. The director has responded to say that his films are: "not the product of my manipulating my actors, misrepresenting the film to them, much less abusing them."
But as for the past, who knows what will happen? Brooke Shields has not expressed regret over her underage roles playing a sexually exploited child in the 1978 film Pretty Baby and a teenager discovering her sexuality in the 1980 film The Blue Lagoon – though she sees the exploitative nature of the business as clearly as anyone.