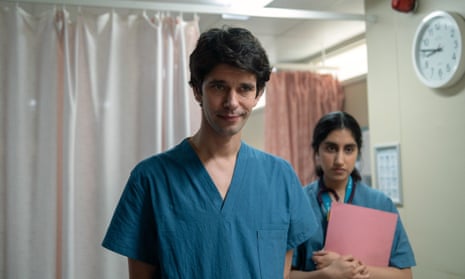 Former doctor Adam Kay's tale of an arrogant gynaecologist struggling in an NHS hospital was shocking, hilarious – and revealed a horrifying truth
By February 2022, there was very little new about This Is Going to Hurt. Since its 2017 release, Adam Kay's comically frank memoir about life as a junior doctor had topped bestseller lists, bagged awards and even been a West End live show. It had even undergone a Covid-inspired second wave that made it the tome to artfully position on bookshelves in video call backgrounds. An undiscovered gem it was not.
Yet such was the power of BBC One's bleakly funny seven-part adaptation – created and written by Kay himself – that it gripped the imagination like a story that had never been told before. From its first graphic, wisecrack-stuffed episode, the tale of Kay (played by Ben Whishaw) and his struggle to cope with the monstrous workload and understaffing on the "brats and twats" (AKA obstetrics and gynaecology) wards was the TV hot topic. The show's dedication to realism meant gore-splattered plotlines ranging from emergency caesareans on dead patients to heartbreaking shots of blood pooling under the Crocs of medics as they battle to stop a new mother bleeding out. Some enraged viewers accused the show of depicting childbirth as unfailingly traumatic, and mothers as powerless slabs of meat. Until, that is, the industry spoke up about its unerringly accurate depiction – with the president of the Royal College of Obstetricians and Gynaecologists releasing a statement to praise how the drama "exposes the harsh realities that healthcare professionals can face".