(Image credit: Estate of Leonora Carrington / ARS, NY and DACS, London 2022)
It's now argued that Surrealism is no longer an art movement – it's an attitude. From Dalí and Schiaparelli to Björk and Lady Gaga, Beverley D'Silva explores a fantastical, unsettling world of dreams.
M
Melting clocks drape over trees; men in bowler hats float through the sky; a disembodied eye blinks back from a plate of soup… Disturbing, displaced, dreamlike – the visual language of Surrealism is now so normal that "to be surreal" can be shorthand for anything strange, unreal, or hinting at the deeper, darker recesses of the human mind.
More like this:
–          The ancient enigma that resonates now
–          The hidden meanings in wearing black
–          The secret Victorian language for now
Surrealism began as a literary movement in Paris, 1924, when writer André Breton created its first manifesto – he described it as "pure psychic automatism" – and it was shaped by Symbolist poetry and Dadaism, whose "anti-artworks" defied reason. It was soon embraced by fine artists including Max Ernst, Hans Arp, Salvador Dalí, Joan Miró and René Magritte, who were reacting to the horrors of World War One, and the devastation of the 1918 influenza pandemic.
The group was also greatly influenced by the work of Austrian neurologist Sigmund Freud, whose theories on the subconscious and the hidden subtext of dreams provided them with rich material. Obsessions, chance, and the irrational were integral to their new artistic reality, in which the familiar is unsettling, and a disintegrating world takes on a dream-like light.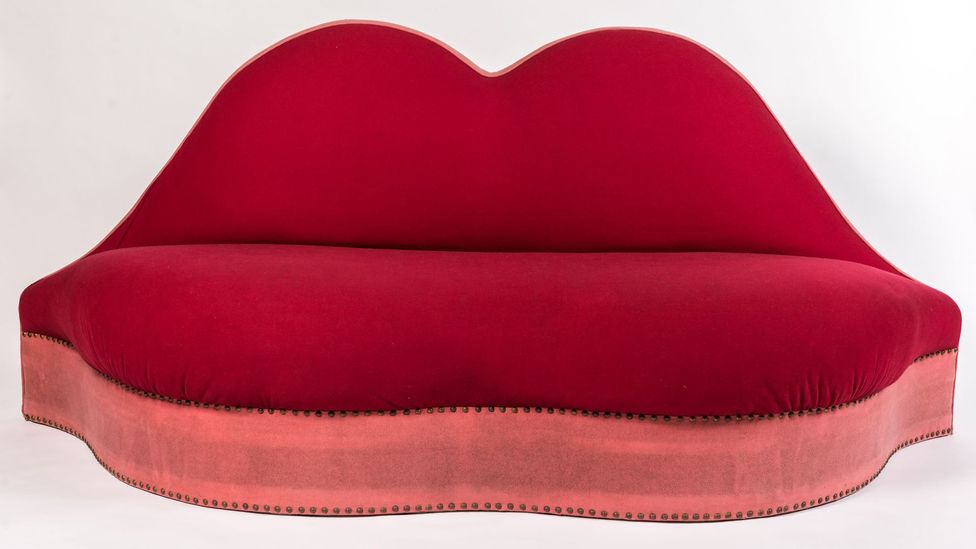 Mae West's Lips sofa (1938) by Salvador Dalí and Edward James is displayed in the Design Museum's Objects of Desire exhibition (Credit: Fundació Gala-Salvador Dalí, DACS 2022)
Painting, drawing and sculpture were their primary media, but by the 1930s, Surrealism was climbing into bed with design to encompass objects, too. From fashion to furniture, graphics to photography, with magazines like Harper's Bazaar and Vogue inviting Dalí and Giorgio De Chirico to create covers with a surreal twist. So too did theatre, film and dance, famously including the ballet costumes and sets commissioned in 1932 by Russian Ballet director Sergei Diaghilev, and artfully executed by Max Ernst and Joan Miró.
In fact, Surrealism's passion for design has never faltered – as an exhibition at London's Design Museum, Objects of Desire: Surrealism and Design 1924 to Today, shows. Its curator, Kathryn Johnson, tells BBC Culture: "If you think Surrealism fizzled out in the 1960s, think again… It is alive and well and never really went away."
The surreal feels just out of reach, yet its emotional punch is visceral and sometimes even urgent – Daniel Roseberry
She draws parallels between the original avant-garde art movement's reaction to war and disease, and artists at work in recent years, "when in the context of dizzying technological change, war and another global pandemic, Surrealism's spirit feels more alive than ever in contemporary design".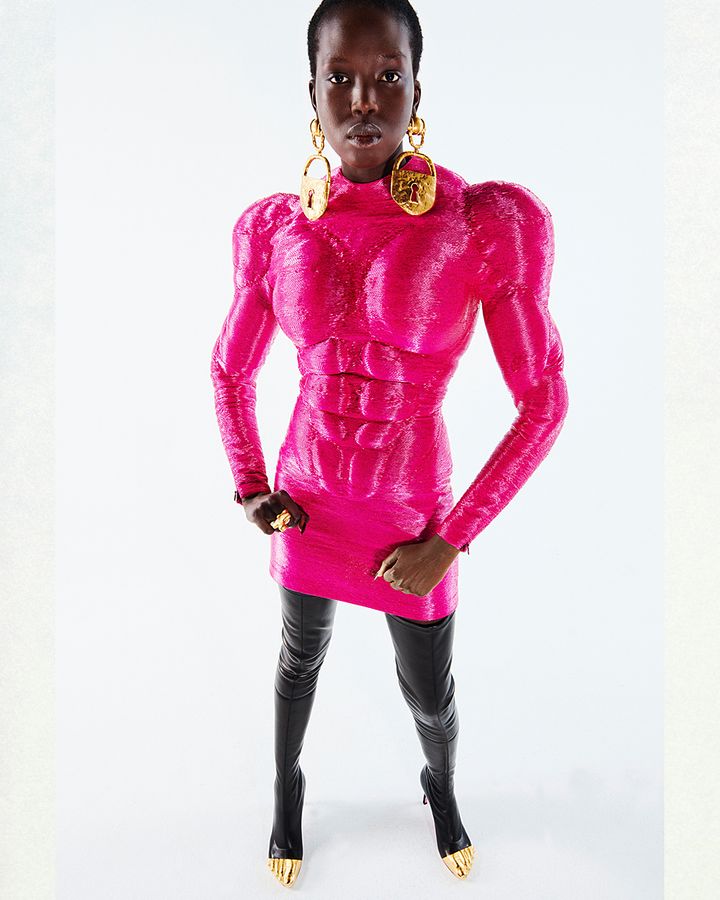 Schiaparelli recently revived its original surreal style – pictured, Look 6 haute couture spring/summer 2021 (Credit: Courtesy of Schiaparelli)
To see how that spirit has bountifully inspired creatives since then, look no further than Elsa Schiaparelli, currently being celebrated in an exhibition at the Musée des Arts Décoratifs in Paris. The Italian aristo fashion designer began her haute couture empire, Maison Schiaparelli, in 1927, and joined forces with Dalí to co-create absurdist, provocative designs. Their Shoe hat (1937-8), an upside-down court shoe with a heel in Schiaparelli's signature shocking pink, was made for Dalí's wife, Gala. They whipped up a lobster dress for US socialite Wallis Simpson, then Duchess of Windsor. Schiaparelli's trompe-l'oeil imagery, such as her dress fabric, printed with rips, foreshadowed punk by four decades, and Surrealist gallery owner Julien Levi believed she was the only fashion designer to successfully interpret Surrealism.
Fast forward almost a century, to Maison Schiaparelli's relaunch in 2018 to great fanfare by its new creative director, Daniel Roseberry. "I want to be the alt couture house," he said, "the really alternative destination for surreal, twisted luxury."
Roseberry described Surrealism's relationship with design as "somewhere between fantasy and reality… darkness and light… The surreal feels just out of reach, yet its emotional punch is visceral and sometimes even urgent."  He dressed Lady Gaga in a Schiaparelli poppy-head skirt and gold-dove brooch – both hugely oversized – to sing at President Biden's inauguration. He plundered the Schiaparelli archives for new collections; the pink Look 6 Haute Couture dress (which is displayed in the Objects of Desire exhibition) is padded to look weirdly muscular. Clothing and bags bear disembodied noses, breasts, eyelids, ears and mouths, some modelled on a 1930s mannequin Schiaparelli displayed in her Paris shop.
Disembodied body parts are a recurring Surrealist motif – one that reflects the early artists' preoccupations, believes Caroline Elenowitz-Hess, a New York-based fashion historian. "Surrealists like Man Ray and André Masson were interested in mannequins, objects that sit in an uncomfortable position between human and non-human," she tells BBC Culture.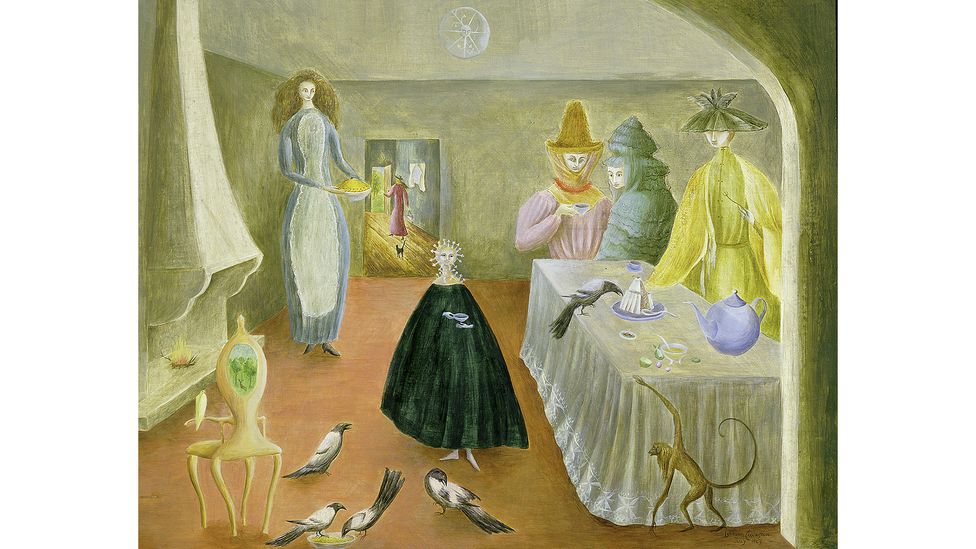 Leonora Carrington's The Old Maids (1947) has a dreamlike quality echoed in 21st-Century design and imagery (Credit: Estate of Leonora Carrington / ARS, NY and DACS, London 2022)
"The intersection of design and Surrealism often rests on a sense of the strangeness of the human body or a juxtaposition of images or objects that makes both seem unfamiliar," she says, pointing to a "cognitive dissonance" experienced when men returned from World War One with serious injuries, mental and physical, which led to a boom in prosthetics. "While these were a practical necessity for many injured soldiers, prosthetics made visible the way lines between human and object could become blurred…" She refers to Prada, the designer brand that has "experimented with making clothes that blur the lines between body and clothing with their 'breast' sweaters in the spring/ summer 2022 collection."
Stranger things
A blurring of lines can be seen in Nigerian fashion designer Yasmina Atta's Kosmos in Blue, 2020, a shapeshifting headless torso whose leather wings flap unexpectedly, inspired by Afrosurrealist films, composer Alice Coltrane and African deity Mami Wata. It's one stunning piece among the 350-strong artworks in Objects of Desire, which also showcases the expected and most feted objects, like a 1963 replica of Man Ray's The Gift, a 1963 replica of his 1921 flat iron studded with nails that would rip any clothing to shreds, and his photo-artwork Le Violin Ingres (1924), model Kiki de Montparnasse's curved back, carved with musical notes.
I try to create fantastic things, magical things, like in a dream. The world needs more fantasy – Salvador Dalí
And of course, there are the many designs by Dalí, who said in 1940: "I try to create fantastic things, magical things, like in a dream. The world needs more fantasy". He supplied that in his second fruitful design partnership (after Schiaparelli) with millionaire surrealist art patron Edward James. In the 1930s, they created their Mae West lips sofa, Lobster Telephone, and Cat's Cradle Hands Chair. These all resided for a time in James's Sussex mansion, Monkton House, said to be the most complete Surrealist interior.
To see the movement's interconnectedness at play, consider a painting like The Old Maids, 1947, by Leonora Carrington, its spectral figures distorted by weird perspective, alongside Björk's videos for songs such as Mutual Core, 2011, Hidden Place, 2001 – in which insidious snakelike forms take over her face – and more recently this year's Atopos, directed by Viðar Logi. There's also Tim Walker's arresting portrait of Tilda Swinton, with a Vicki Beamon lip brooch gripped between her teeth, and razor-sharp talons; taken in 2013 at the estate in Mexico once owned by Edward James, it brings us full circle in style if not time.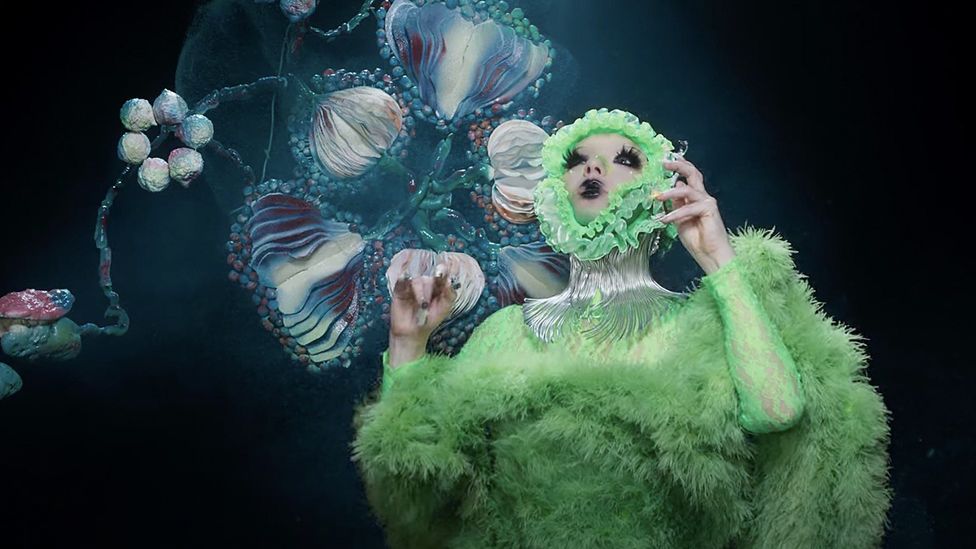 Björk, seen here in the video for her recent single Atopos, is a modern-day surrealist (Credit: Viðar Logi)
"Surrealism is no longer an art movement but an attitude toward art and design," says Mateo Kries, director of the Vitra Design Museum, Germany, receptacle for many of the most important Surrealist artworks. That attitude is clearly at work at the exhibition Strange Clay, at London's Hayward Gallery. Among the contemporary artists using "clay in an unexpected way" are David Zink Yi, whose giant alien squid (2010) sprawls in a glossy pool of ink; Japanese artist Takuro Kuwata's candy-coloured Yeti-like creatures; and Lindsey Mendick's kitchen infested with ceramic slugs and cockroaches.
Viewing Klara Kristalova's botanical scene, Camouflage, that is installed there is like wandering through a Grimm's fairytale glade. Ceramic figures, often adolescents with exaggerated features, morph into weirder states – such as Wooden Girl, trapped inside a tree stump, with twiggy hands; or a boy in street gear with a horse's head. The artwork was inspired by the view behind her house near Stockholm: "It's a forest full of my abandoned sculptures," the artist tells BBC Culture. "With time, they change, disappear and seem to grow anew. I find that to be a good metaphor for life."
Kristalova grew up in an isolated part of Sweden, "with a sense of disquiet intensified when my mother read me scary folk tales," she says. Her artist parents kept many books on Surrealism, which she devoured, and that "got into my backbone," she says. "I loved Max Ernst, and I especially loved Meret Oppenheim. I found her work a bit silly and playful, but it came close to being about women's life."
Oppenheim is often credited as being the most famous female Surrealist. In the late 1930s she designed Traccia, a whimsical side table sitting on birds' legs. A few years before, in 1936, when she was 22, she had made a bracelet out of a brass tube, and covered it in fur. It was for Schiaparelli, but she wore it to meet Pablo Picasso and Dora Maar at a cafe in Paris. Her friends' comments on seeing it – that anything could be covered in fur – inspired Object, her cup and saucer coated in gazelle fur that, according to MoMA, is "the single most notorious Surrealist object".
Today, when we're so familiar with Oppenheim's furry cup and saucer, it's a stretch to imagine the shock and intrigue it caused at the time. It begs the question: can Surrealist-inspired art, which relied on its power to disturb, still have shock value?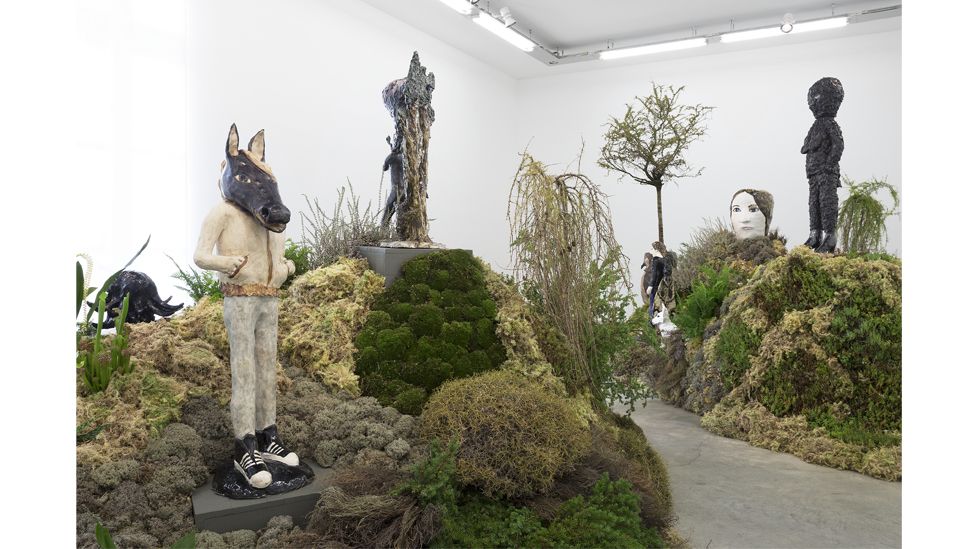 Swedish artist Klara Kristalvoa's dark, unsettling Camouflage is installed at the Hayward's Strange Clay exhibition (Credit: Courtesy of artist and Perrotin/ Photo by Claire Dorn)
"That was part of my fear, and we thought about it a lot," says Johnson of compiling Objects of Desire. "There is a risk [displaying these objects] you create a 'new norm'." To invoke surprise – a feeling of "seeing with new eyes" – they worked hard on the relationship between displayed objects, such as placing de Chirico's Arrivo del trasloco (c 1965) next to a contemporary artwork by Alicja Kwade: "They both offer pin-sharp convincing depictions of reality… But when you look again, you see them in a different light… they can seem unstable, more fantastical than you first thought. Surprising juxtapositions is something the Surrealists tried to create," she says, recalling their "assemblages" – ideas sparked when joining otherwise unrelated items, just as William Burroughs and David Bowie used the "cut-up" technique of writing to create surprising sentences.
"The answer is we shouldn't see design in isolation – just as those designers or artists were not operating in a vacuum," says Johnson. "Seen in that context, some of those early works are even more shocking now than they were in their day."