Some clever ideas are wasted in this wobbly drama as a group of friends discover a dead body in nearby woodland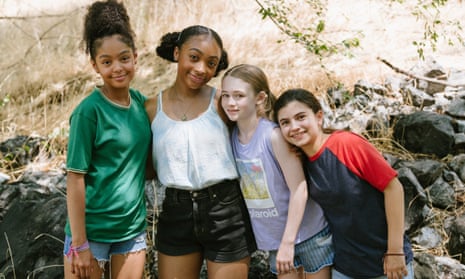 Agender-switched riff on Stand By Me sounds like an intriguing idea – a dead body is discovered by four pre-teen girls – and interesting things do happen in this film at first, in that it declines to conform tonally to what you expect; and yet the quirky-dreamy YA style persists. However, there is something uncertain and soft-centre about what follows, and the plot unrealities make it very silly.
Lola (Sanai Victoria), Mari (Eden Grace Redfield), Daisy (Madalen Mills) and Daisy (Lia Barnett) are four best friends in an American suburb, whiling away the long hot summer before they start middle school. Rambling aimlessly through some woodland outside town, they are stunned to discover the corpse of a man, and find themselves mostly reluctant to tell the police or their parents: they want to savour this bizarre, rare secret and also realise that once the alarm is raised, they will be fiercely questioned and feel like they are in trouble even though they aren't.