'Such a joyous moment': the White Lotus theme becomes a dancefloor hit at clubs and festivals
The Killers opened this week's stadium show with the TV series' song, which has become a DJ staple at festivals and clubs – and a 'cherry on top' for its composer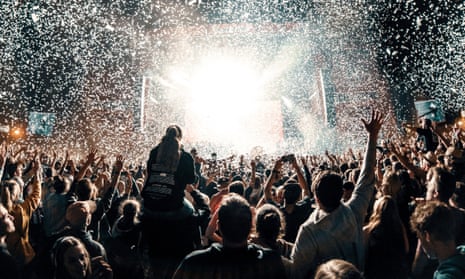 Over just 90 seconds, the theme song to season two of hit TV show the White Lotus manages to cram in a chaotic list of sounds: a beatific harp intro, haunting strains of opera, a chorus of yodels – and that famous EDM breakdown.
It has spawned thousands of TikToks, many impassioned arguments against the "skip intro" button, and at least one house remix.
And now, it has become a dancefloor staple.
For weeks, users on social media have been sharing footage of the Emmy award-winning show's theme song playing in festivals and clubs, often to ecstatic effect.
The anthology series – about the super-rich doing super-bad things in idyllic locations – wrapped up its second season, set in Sicily, this week. Days before its finale, the track played at Meredith music festival in Victoria, Australia to a packed afternoon audience, many of whom sang along – or tried to – with its lilting notes.
A large effigy of Jennifer Coolidge, who stars in the series, was also spotted in the throng later that night.
"It was such a joyous moment," says Paul Kearney, who was in the crowd when the theme song played. "There was a collective lighting up of the eyes from pleasant surprise, and the energy was palpable.
"Streams of people came rushing down to join in once they heard it … [we] danced with our hands in the air."
The almost entirely instrumental track also blasted from the stage at the Killers' Melbourne show this week as the band entered.
Concert-goer Callum Twomey says the choice was a surprise. "I had gone to their concert the night before and it had been a more standard walk-on. But when The White Lotus came blaring through it was quite funny. The crowd was into it.