Strike: Troubled Blood review – the show's real hook: will Robin and Strike finally get together?
Never mind the murder investigation: the will-they won't-they relationship between the two detectives is the beating heart of this Robert Galbraith (AKA JK Rowling) adaptation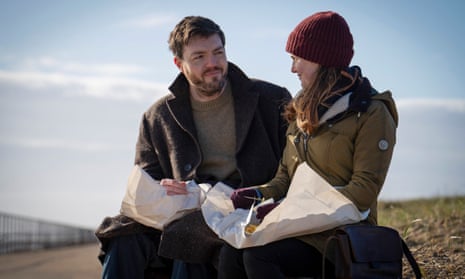 Another Sunday night, another crime drama based on a series of novels. Ah, but Strike (BBC One) cannot be like the others, because of the books' author. Published under the name Robert Galbraith, the Strike stories have been automatic No 1 bestsellers ever since it was revealed that Galbraith is Harry Potter creator JK Rowling. This fifth season of Strike, based on the fifth book Troubled Blood, has fans and detractors awaiting it with a fervour other TV whodunnits do not tend to provoke.
If your only interaction with the Galbraith books is a biennial glance at the headlines they generate, be informed that Rowling's growing tendency to reiterate political disagreements via her characters is toned right down on TV. Troubled Blood is the one that was accused of transphobia when it was published in 2020, but that subplot – a serial killer wears women's clothing to gain access to his victims, evoking the claim by "gender-critical" campaigners that abusive men will invade women's spaces if transgender rights are upheld – is barely present here, and was not very prominent in the book anyway.