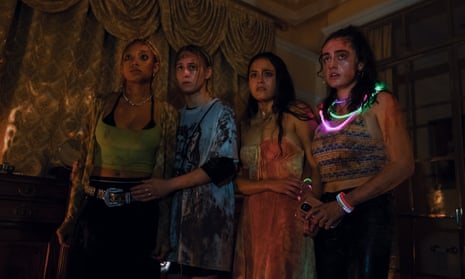 'Illuminating': Amandla Stenberg, Maria Bakalova, Chase Sui Wonders and Rachel Sennott in Bodies Bodies Bodies.
Halina Reijn's barbed satire of 21st-century youth culture and a bold tale of sexual discovery from Lena Dunham join Gen Z gems Booksmart, Eighth Grade and more
If online trend reporting is to be believed – always a pretty big if, admittedly – generation Z is not big on watching movies, succumbing instead to the shorter, smaller-screen allure of TikTok and YouTube for their viewing pleasure. Perhaps that's one reason why there doesn't seem to be a definitive canon of teen films for the post-millennial generation – but then, Hollywood has often struggled with capturing contemporary youth when films tend to be made by their elders.
That disparity isn't entirely fixed by two Gen Z-themed films out on VOD last week, though both – to this craggy old millennial's mind, at least – have sharper teeth than many of their gawky peers. Halina Reijn's seductively slick Bodies Bodies Bodies cleverly weaves a critique of zoomers' fast-evolving identity politics through the sillier, traditionally teen-targeted genre prism of the slasher movie. Lena Dunham's Sharp Stick takes a scruffier, less commercial form to examine the simultaneous terror and ecstasy of sexual discovery. Both strike me as essential, illuminating viewing, whether the kids are watching them or not.