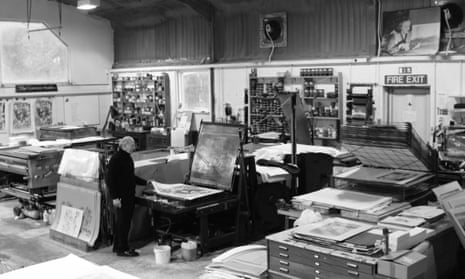 Outstanding lithographer and founder of the Curwen Studio who worked with leading artists from Henry Moore to Paula Rego
In 1956 Stanley Jones, who has died aged 89, joined the Atelier Patris, the lithography workshop set up in Paris by the eventual film director Gérard Patris. There Stanley deepened his understanding of not only the technical skills involved, but also the skill of collaborating with artists to realise their ideas in print. He met Alberto Giacometti, and worked with Pierre Soulages, Gino Severini and Kumi Sugai.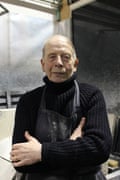 The following year, the London gallery owner Robert Erskine sought Stanley out with an offer to return to the UK to set up a fine art lithographic studio under the auspices of the Curwen Press. Stanley agreed, and while the Curwen Studio was being built he embarked on a pilot project in St Ives, Cornwall, working with artists including Barbara Hepworth, Patrick Heron and Peter Lanyon.
The studio opened in 1958 in Plaistow, east London, before moving in 1965 to Midford Place, off Tottenham Court Road. It became an established part of London's lively art scene: John Betjeman described what went on there as "artistic alchemy". It was romantic alchemy too: in 1958 Stanley met Jenny Stone there, and they married in 1961.
Stanley's calm temperament, brilliant colour sensibility and years of experience gave him the skills needed for a master printer. He understood the endless possibilities of lithography (both stone and plate) and would advise artists to arrive at the studio with an open mind, not fixed ideas, to allow the work to emerge from experimentation and the process.
John Piper liked to work in a corner of the Curwen Studio to develop ideas and discuss how lithography could help him achieve the marks and colours he wanted. Stanley had an extraordinary rapport with artists, always involving them in every stage of the creative process. Sculptors such as Hepworth and Henry Moore found lithography an exciting medium to translate their ideas from sculpture into print under Stanley's technical guidance. He was, in Erskine's words, "a skilled mediator between artist and stone".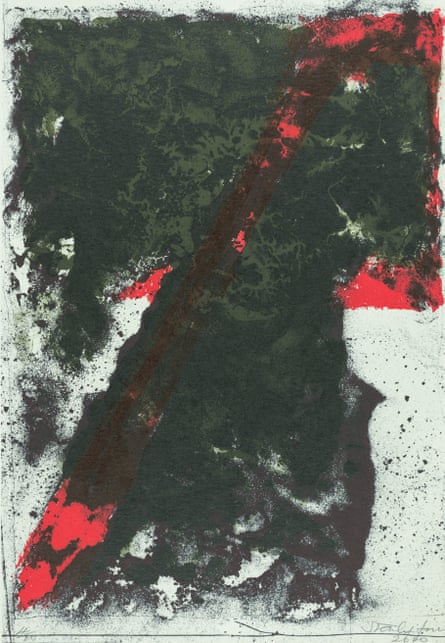 The impact of Stanley's work at the Curwen was huge. In 1977 Tate Britain held the exhibition Artists at Curwen to celebrate a gift of Curwen prints to the Tate archive, and in 2008 Tate Britain celebrated 50 years of the Curwen Studio with an exhibition acknowledging the studio's crucial role in the evolution of 20th-century art.
In 1998 the Curwen Studio relocated to the grounds of Chilford Hall in Cambridgeshire. There was space there for Stanley to realise a dream of setting up a centre to promote and preserve the skills of fine art printmaking.
After two years came the establishment of the Curwen Print Study Centre, a charitable trust offering artists, starting from beginners, a complete print journey including classes and open studio print facilities. Stanley was delighted in March 2022 to see it move to new and bespoke premises in Great Thurlow, Suffolk. He retired from the Curwen Studio in 2013, but continued his active involvement with the study centre for the rest of his life.
Born in Wigan, Stanley was the son of Elizabeth (nee Cartwright) and George Jones, an engine driver. Stanley's talent for painting and drawing emerged at an early age, and his father often used his free travel perk to take him to the National Gallery in London. After studying at Wigan grammar school and Wigan Art School, Stanley won a scholarship to the Slade School of Fine Art in 1954.
There he began to experiment with the possibilities of lithography, and his prints soon attracted the attention of tutors, including Piper and Ceri Richards. He received a special commendation in lithography when he graduated in 1956, and William Coldstream, the head of the Slade, found Stanley two small scholarships to enable him to study in Paris.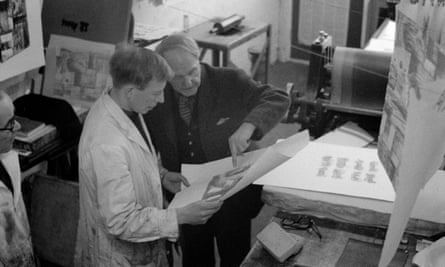 There were no lithographic "ateliers" in London where he could learn more about the process, but it was a flourishing art form across the Channel. Speaking just basic French, the 23-year-old signed up at the École des Beaux Arts. He met Bill Hayter, master printer at Atelier 17, who introduced him to Patris.
Stanley returned to the Slade to teach lithography from 1958 to 1998, alongside his work at the Curwen. Many of his students went on to become successful artists and print makers, and he was a mentor and friend to many artists – others with whom he worked included Elisabeth Frink, Edward Bawden, David Hockney and Paula Rego.
Throughout his career he exhibited his own work both as a painter and a printmaker. He was a founder member and president of the Printmaker's Council and his work is held in major collections and public galleries around the world. In 1999 he received an honorary doctorate from Southampton University, and in 2008 he was appointed MBE.
Jenny died last year and he is survived by his children, Matthew and Liza.