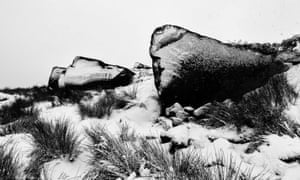 Snowy Apparition, which is occasionally spotted in winter. Photograph: Rebecca Cole
Based in the stunning Wharfedale valley, the Yorkshire photographer Rebecca Cole likes to capture a smile when she's walking with her camera, but not always of the human kind.
Pareidolia is the phenomenon that causes us to perceive things such as animals or faces where they don't actually exist. You've probably seen documented the wonderful shapes created by starling murmurations. So what is there to find on the heather landscape of Ilkley Moor? The answer lies in the gritstone.
Cole explains: 'Through the tunnel vision of my soaking hood, I noticed a face in one of the many gritstone boulders. It was my first sighting of a Moors Dweller. It made my smile in the most abysmal weather and made a very good reason to keep on looking.'
Among the wildlife and landscapes of her daily photo journal, Cole records Moors Dwellers and then saves them on Blipfoto, a community-owned website. Take a look and see if you can 'see' them too