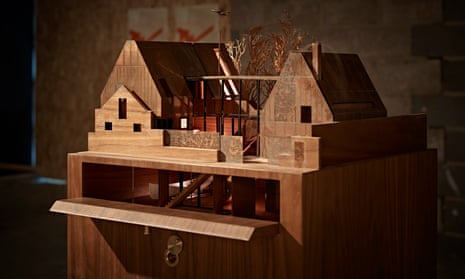 Supermodels, an extraordinary immersive show in London, uses animatronics and meticulous construction to create a hybrid digital-analogue beauty
When the eerily accurate AI image generator Dall-E 2 was released for public experimentation by OpenAI this summer, most people immediately used it to create whimsical scenes such as "samurai dolphin painted in the style of Rembrandt" or "Bruce Willis angrily devouring a cheeseburger on the moon". True, if you looked too closely at Bruce's left ear you might have noticed it wasn't there – but the freaky glitches were, though somewhat unsettling, part of the fun, not to mention a calming reminder that AI cannot entirely trick us that its images are real – yet.
But more than one panicked architect also typed in, "Four-storey family home in forest in the style of Mies van der Rohe" or "Japanese-Scandi lounge area in office building lobby", and let out a tiny scream when the results resembled the renders of projects that architects otherwise spend long hours churning out. If an AI could knock out a decent interior in seconds, did it promise to be a fabulous time-saver – or would it put everyone out of a job?