In the 1920s, the traditional haunted house died a death – as home design became all clean lines and bright spaces. But directors soon turned these dirt-free abodes into eerie, alienating, terrifying places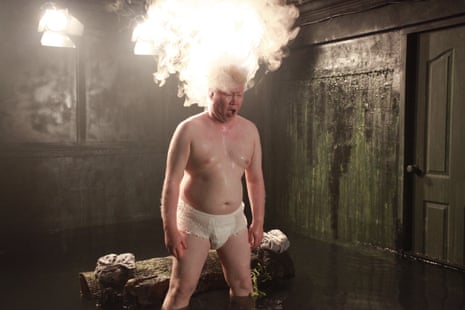 The Ikon Gallery in Birmingham is an old Victorian school that was turned inside out and filled with new modernist interiors in the late 1990s. It looks to the untrained eye like a place of dusty classrooms and tiled corridors, but inside you'll find glass stairwells and white cube gallery spaces. Around you, nearly everything is modern. Ikon stands in one of the first New Labour urban regeneration showpieces – Brindleyplace, all chain cafes, pristine lawns and squares, and canalside office blocks. It is privately secured and patrolled, managed apart from the rest of the city. Nothing is allowed to go wrong; nothing is quite what it seems; nothing is real. It's an appropriately uneasy place for Horror in the Modernist Block, a show aiming to explore the perhaps obscure links between modern architecture and horror.
Horror is generally about the irrational. It is a matter of things that do not exist – ghosts, vampires, zombies – and about how the brain manufactures terrors for itself in situations where you're usually entirely safe. It's also, often, about the past: the revenants and spectres left over from an earlier, apparently less enlightened age. Accordingly, a "haunted house" is usually not cubic and made of steel and concrete. But terror has certainly happened in modern buildings. In fact, the terms used to be all-but-synonymous for tabloid headline writers who, from the 70s to 90s, filled their pages with stories about ghastly scenes of murder and social dysfunction in high-rise social housing estates, and branded London's Trellick Tower the Tower of Terror (flats there now sell for more than £1m).