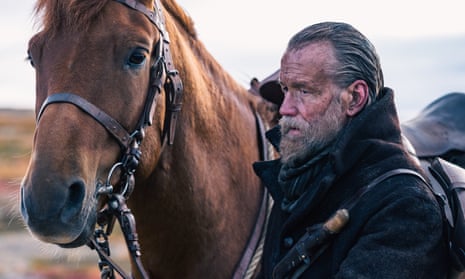 Sisu review – grisly feast of extravagant violence as Finnish hero slaughters Nazis
Cheerfully entertaining action film follows a granite-faced Finnish gold miner with a hunting knife as he kills the enemy in wildly silly ways
'He is one mean motherfucker you don't want to mess with!" The memo arrives too late for the Nazis. When they clap eyes on the mean motherfucker they mistake him for a harmless old gold miner. "Get down on your knees, grandpa," one orders, laughing so hard that he doesn't notice the hunting knife entering his skull through his left ear and exiting out of the right. And that's just for starters.
For the rest of this extravagantly violent and cheerfully entertaining action film from Finland, director Jalmari Helander treats us to a comedy of deaths: a lavish grisly feast of Nazis meeting their maker in outrageous and wildly silly ways that had the audience I watched it with shrieking with laughter.
Sisu is set in 1944, towards the end of the second world war. It opens with a granite-faced miner striking gold in the middle of nowhere. But setting off on horseback heading to the city, satchel full of gold, he meets a convoy of Nazis rolling out of Finland. You might think there's zero mileage left in the movies for psychopathic Nazis, but Helander finds a newish and sort-of-interesting angle here with his portrayal of Germans at the fag end of the conflict: war-addled and woozy, dressed in torn uniform with dead eyes and grimy faces. The game is up, and they are nihilistic.
That said, none of them is exactly burdened with character complexity. That goes for the miner too: he turns out to be a legendary Finnish soldier called Aatami, so tough that he can plunge his hand deep into his own innards to pull out shrapnel. Earlier in the war, the Russians nicknamed him the Immortal, and he's played by Jorma Tommila, a strong though not quite commanding presence. Like John Wick in a spaghetti western, Aatami takes out the Nazis one by one.
Everyone speaks here in accented English – "get off zeee horse" – which the film gets away with. Firstly, because there's very little dialogue and secondly, because everything here feels a bit tongue-in-cheek in a Tarantino kind of a way. It's super fun entertainment, which mostly disguises the fact it's not going to stick in the mind for long.