Sarah Sze: The Waiting Room review – astonishing kaleidoscopic slideshow for the smartphone age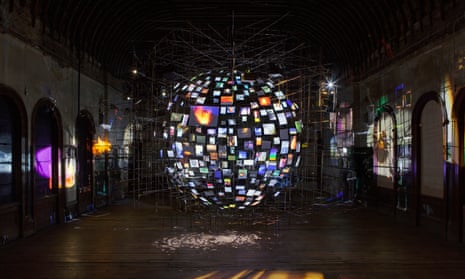 I just stood and gawped … Metronome, 2023, in The Waiting Room at Peckham Rye station.
 Photograph: © Sarah Sze, Courtesy the Artist. Photo Thierry Bal
Peckham Rye station, London
Like an experiment in time travel and a vision of things to come, Sze's exhilarating video sculpture gives the sensation of a brain fried by information overload
Sarah Sze's The Waiting Room is an astonishing phantasmagoria, filling the gloom of a long abandoned and forgotten interior in Peckham Rye railway station in London with sound and images. Built in 1865, the station included an especially vast, high-ceilinged waiting room, which closed more than a century ago. All but forgotten for more than 50 years, few who use the station know it is there, up a flight of stairs near the station entrance. Old-fashioned hand-painted signage on the stairs points up to the billiard hall which replaced the waiting room in 1922, though that too was closed down at the end of the 1950s. Since then, the room has been empty. Artangel, which commissioned Sze's project, has once again married an artist and a space. It is more than a venue. The whole thing feels like an experiment in time travel, a vision of things to come created in the slipstream of a bygone age.