Rachel Whiteread calls for end to Trafalgar Square fourth plinth sculptures
Artist says programme needs 'rethink' amid evidence that sculptors cannot find permanent homes for their work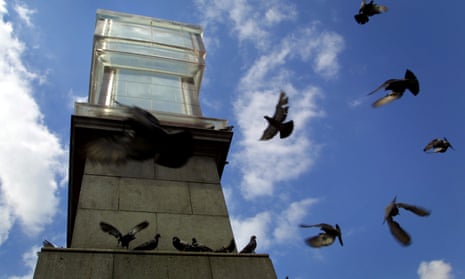 The Turner prize winner Rachel Whiteread has called for an end to the fourth plinth sculpture programme amid new evidence of the difficulty leading artists like her face in finding a permanent home for their work.
The Guardian has established that three-quarters of the former fourth plinth commissions are currently in storage, and only one is on display in the UK.
Whiteread's own resin cast of the plinth has not been seen in public since appearing on the Trafalgar Square site in 2001. She said the programme needed a rethink.
"I think it has run out," she told the Guardian, "there have been some really great projects and then there have been some that are not so great."
The original intention of the programme was to find a permanent home for a contemporary monument on the vacant plinth. Whiteread said: "There is still no permanence. It has been great to have had an exhibition space over however long, but I think it has done its time as a plinth. One of the most interesting things that could be done now is just to have it left empty."
She suggested that the 24-year history of the programme could be displayed on a board near the plinth, or on a phone app. She said: "People making these decisions need to have a long hard think, because the art world is now a very different place, and Trafalgar Square is now a very different setting."
Whiteread has failed to find a home for her fourth plinth piece. "One moves on and just tries to be philosophical about these things. It's very difficult in this country to make public sculpture and get it permanently sited, especially in a place like Trafalgar Square."
In reference to her move away from monumental work, she added: "It's why I make shy sculptures now – that's the way to make these things happen and make them permanent."
Other fourth plinth artists share Whiteread's frustration. The Iraqi-American artist Michael Rakowitz said of his 2018 work The Invisible Enemy Should Not Exist: "I have no idea when it will be seen again. Having pieces sitting in storage is always a bummer."