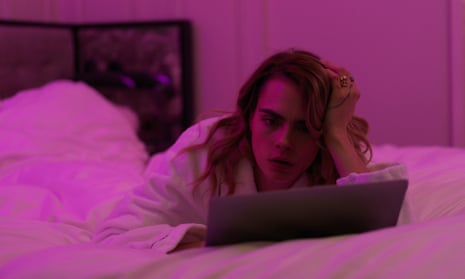 Yes. Yes! YES!! … Cara Delevingne explores orgasms in Planet Sex.
 Photograph: BBC
As the model watches porn and explores the orgasm gap, her wit and warmth make for a fun, female-centric documentary – far from the toe-curling experience you might expect
Ithink we spoke a few days ago in another review, didn't we, about the beauty of low expectations? Always either met and providing a satisfaction of sorts, or exceeded and providing a degree of actual happiness? And how pessimists have a much better time of it than optimists? Yes, we did.
Well, buckle up, my pretties, because television has pulled off the same feat again. For lo, the prospect offered by the title Planet Sex With Cara Delevingne (BBC Three) did make the spirit quail within me. But lo! The pessimist once more rejoiced. Planet Sex is far better than the frenetic, toe-curling embarrassment fest for which I had prepared myself. It is actually very good! And Cara D is actually very good indeed!