The wooden puppet-boy turns fascist in a Mussolini-era, fantasy-horror rework of the classic tale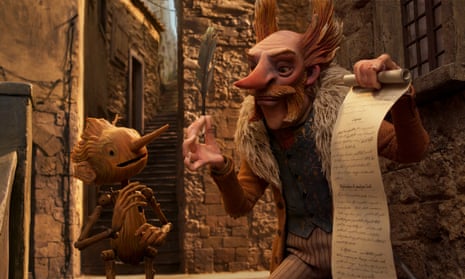 Guillermo del Toro has contrived a new stop-motion-type animated account of Pinocchio in this austere and dark version of the Carlo Collodi fairytale. Such a thing was badly needed as a corrective to Robert Zemeckis's disastrous, sickly and sentimental live-action Pinocchio, which also came out this year, featuring Tom Hanks giving a non-vintage performance as Geppetto, the whiskery toymaker.
Del Toro's version amplifies the psychological nightmare implicit in the story of a sad, childless craftsman in Italy who, in the agonies of grief, creates a puppet that becomes a real boy. When Geppetto's son dies in an air raid at the end of the first world war, young Pinocchio is the tragic substitute, brought to life by occult forces that are far from Walt Disney sweetness; he is dragooned first into a travelling circus and then finally into the young fascisti.