Our Flag Means Death review – a total waste of most of the best comedians in the world
This pirate comedy is executive-produced by Taika Waititi and boasts a superb cast of comic greats. So why do they provide none of the proper laughs?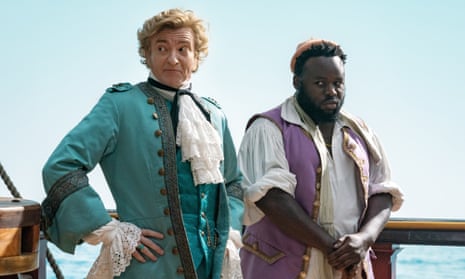 In Our Flag Means Death (BBC Two), a new HBO ensemble comedy executive-produced by Taika Waititi, Rhys Darby plays an ineffectual 18th-century aristocrat who tries to reinvent himself as a pirate but isn't cut out for it.
Here's the thing that makes this series inessential, although it's hard to dislike: if you're at all well versed in the TV comedy of the past 15 years, the above summary doesn't just tell you what the show is about. It gives you a big hint as to the whole style of it, the tone of it, the structure of the jokes. And if it doesn't, 20 seconds of former Flight of the Conchords star Darby as Stede Bonnet, a nervous fop with benign misapprehensions about his own abilities and the world's willingness to be impressed by him, will give you the measure of Our Flag Means Death and let you join in with the punchlines. Not that "punchlines" is quite the right word for the comedy payoffs here. There's no settled name for this type of post-Office ensemble comedy, but you know it as soon as you see it: lots of mumbled irony, diffident delusion and offhand passive aggression. Despite the period setting we are, it seems, drifting in 21st-century alternative comedy's comfort zone.