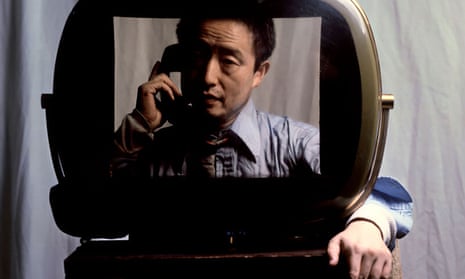 Documentary shows the awe-inspiring vocation of this avant garde disruptor, who foresaw the internet and meme culture's importance in the 1970s
Nam June Paik was a Korean video art pioneer, experimentalist and avant garde disruptor whose amazing, anarchic career – which flourished in 1960s and 70s New York – is recounted in this amusing and engaging documentary, the title of which is taken from one of his works: a luminous disc on a screen, telling us we gaze at the TV in the submissive way we once stared at the moon.
Minari's Steven Yeun provides the voiceover for the artist's own words and, among other things, this film shows us how exhausting it must be to do what he did: to insist, for decades, that his art, an art which bore no resemblance to anything that had gone before, had validity and meaning, while always being on the verge of poverty and physical breakdown. The overwhelming sense of vocation necessary for such a life is almost awe-inspiring, although Paik's own jokey, opaque persona seems to exist as a rebuke to any reaction as bourgeois as that.
Paik was a music student and pianist, radicalised by his period in 1950s West Germany during which he encountered Schönberg, Stockhausen and especially John Cage, who became a lifelong ally. Cage has a droll remark about Paik's wacky, confrontational concerts and happenings: "More entertaining to recall than to experience at the time." A Cageian movement in his own work led away from music to an interest in soundscape design, radio and TV and finally video art; Paik was the early adopter who saw video's potential.
Paik's work also involved the manipulation of TV images, an artistic "talking back" to the TV, and there is a sense that he foresaw the whole of the internet and Web 2.0: his 1974 work Electronic Superhighway arguably anticipated the phrase "information superhighway". He was a kind of Warhol figure (or even Godardian figure) in his fascination with the image: a very modern creator.