This masterly autopsy documentary shows one woman's rare, brave gift to science – but it never shies away from the truth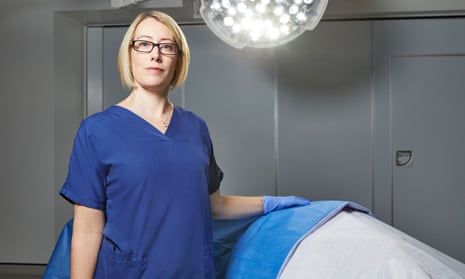 'Itry not to think about it too much," says Jo Crews. "It's a bit of a mind game, as a mum." Jo is the mother of Toni Crews. Her daughter died at the age of 30, four years after being diagnosed with a rare and aggressive cancer. It began in her tear duct and, despite the removal of her eye and much treatment thereafter, spread quickly and terminally throughout her body. She left that body to medical science, an unusual decision in itself. Only about 1,300 people a year make such a donation, which means that few medical professionals ever get the chance to examine a disease as rare as Toni's. But she also left it for public display and anatomical examination, so that it could be used for teaching en masse, and for filming, so that it could educate thousands of times more people than usual.
Which is how we are here, watching My Dead Body (Channel 4) and the dissection of Toni's gift by Prof Claire Smith, head of anatomy at Brighton and Sussex Medical School. She and her colleagues approach Toni and the task with a kindly efficiency. They work out how best to carry out the procedures (how many slices of brain, for example, can you scan without overloading the equipment?) and which experts should take over in each of the dozen workshops that will be held to maximise the educational yield from what they have been given.