Maria Speth's documentary about a genial teacher shepherding a diverse group of pupils is a stunning lesson in film-making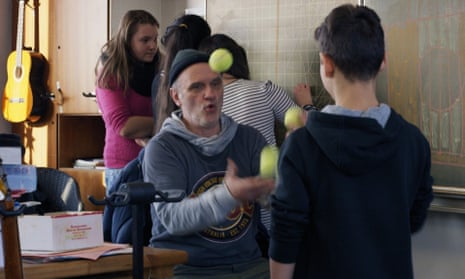 Maria Speth's 217-minute deep-dive documentary won the Silver Bear at this year's Berlin film festival; it shows us the life of a German teacher, Dieter Bachmann, and his lively class of 12- and 13-year-olds at a school in Stadtallendorf near Marburg. It is a place that has a footnote in European history for using forced labour to produce munitions during the second world war, with trees planted on the factory roof as camouflage – grisly facts that we see the children learning.
Herr Bachmann presides over a diverse mix of Germans and students from immigrant communities from Turkey, Bulgaria and Russia, and has to teach them all how to get along and how to understand each other's identities and problems. He himself is a genial, almost hippyish figure who teaches music – electric guitar and drums – as well as sculpture, art, German and maths. He can even teach them to juggle. He is a well-loved guy nearing retirement; at one stage, however, he confesses to feeling despair, back in his 40s, about whether teaching was meaningful for him.