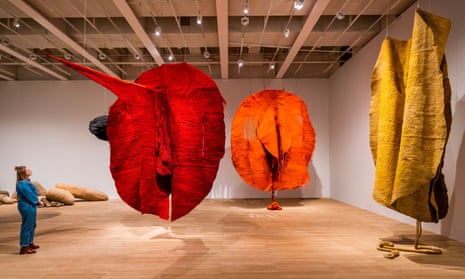 Tate Modern, London
The radical, grand-scale textile sculptures of the late Polish artist are a sensory delight in this sensitively curated show
The scent is of warm sheep's fleece, fresh peat and sisal. The sense is of being outdoors in the woods. All around you they rise: dark, looming forms suspended from on high, some of them branching out like trees, others tangled with vines or opening their hollow trunks as if to offer shelter from the coming storm. An ancient forest, primal, majestic, mysterious – and all of it created from wool.
The Polish artist Magdalena Abakanowicz (1930-2017) was a weaver of sculptures. What she did was so radical that it startles even today. She took the conventional flat hanging tapestry woven for thousands of years and remade it in three dimensions. Her weavings are vast objects suspended in space that might feel human – great heads, enormous anatomies – or might be organic, from hills to boughs to serpentine coils and lianas.