Lizzo review – a euphoric display of true superstardom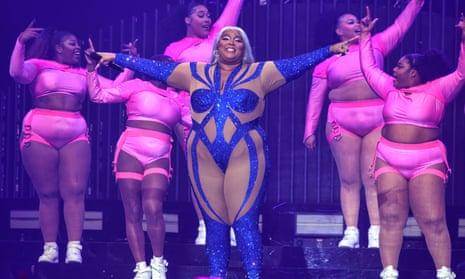 'Whew! There's a lot going on' … Lizzo in concert at Ovo Hydro, Glasgow. Photograph: Stuart Westwood/REX/Shutterstock
Theatrical, emotional, hilarious, the full range of a multi-hyphenate talent is on show tonight – no wonder she has changed the face of pop
Lizzo treats every song like it's a grand finale. Opening her first UK tour since 2019, she bursts on stage in a sequinned nude illusion catsuit, poker-straight blond hair cascading down her back. After high-kicking through The Sign, the cheeky opener to 2022's Grammy-nominated album Special, she storms through 2 Be Loved (Am I Ready), a synth-pop powerhouse packed with hand claps and key changes and a euphoric call-and-response chorus. Four neon-clad dancers arrive (then eight, then 10!) and Lizzo conducts them like a ringleader from atop glamorously curved, glowing risers. Even the highest tiers of the arena are dancing in the aisles, and when the song is over Lizzo holds both fists in the air like she's just won gold. It feels overwhelmingly triumphant – and there's still two hours left on the clock.
A true multi-hyphenate, Melissa Jefferson is a rapper-singer-songwriter-dancer-flautist-CEO. Over a decade she's metamorphosed from being a leftfield rapper in Minneapolis to being a globally adored superstar who has changed the face of pop. But even with four Grammys on the mantelpiece, there's no trace of complacency: tonight's show is relentlessly aerobic, theatrical, emotional, hilarious.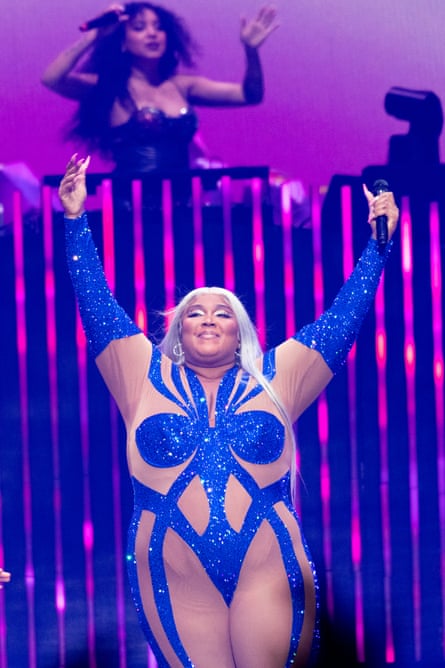 Standing ovations greet her every time she pauses, and surely the Hydro's stage manager is keeping an eye on the clock, but Lizzo takes just as long to reciprocate. "Whew! There's a lot going on," she declares, after helping a fan to propose to his boyfriend (he said yes), consoling another about a recent breakup ("better now than later"), greeting a small child ("hi baby!"), and posing for a photo shoot in a borrowed Minnesota Vikings jersey. Heads of state do less for their public.
This generosity underpins her stagecraft, even though her musical talent speaks for itself. Jerome, a fan-favourite big ballad from 2019's Cuz I Love You is a showstopper: Lizzo drapes, feline, across a chaise longue and chastises an ex with panache. "Don't cry for me baby!" she commands, her soaring ad-libs turning into an impression of a tearfully regretful lover. Elsewhere, she flexes her hip-hop credentials: the Missy Elliott-featuring Tempo is electric with a full band, and her cover of Lauryn Hill's Doo Wop (That Thing) is deft and soulful.
Special is blunter and glossier than Lizzo's previous albums, but it still has bite. Everybody's Gay is an unexpected highlight: a Nile Rodgers-tier riff and Lizzo's tender sexiness elevate it into a setlist staple, and she twirls a trans-inclusive pride flag with clear intent.
When it's finally time for that grand finale, Lizzo has a victory lap of bangers to deploy. Ear-splitting, full-hearted singalongs to Truth Hurts, Cuz I Love You, Juice and About Damn Time are crowning proof of Lizzo's superstardom. Glastonbury's Emily Eavis said Lizzo could "totally headline" the festival, amid a so-called "pipeline problem" in sourcing eligible female artists. Tonight she proves she's more than qualified. In the singer's own words: if you're looking for a sign, Lizzo's it.