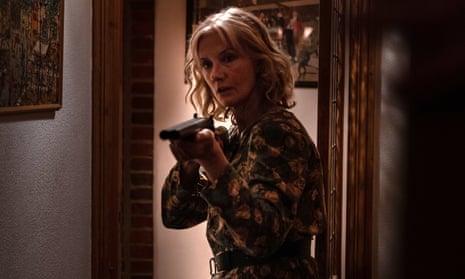 Little Bone Lodge review – Joely Richardson is scarily fierce in tense thriller
Secrets are revealed as Richardson's matriarch turns out not to be just a simple farmer's wife when protecting her family
story is set in a farmhouse in present-day Britain, but its occupants – hypercompetent Mama (Joely Richardson), ailing Pa (Roger Ajogbe) and teenage daughter Maisy (Sadie Soverall) – live like they're in the 1950s, with no mobile phones or landline, no TV and certainly no internet. Nevertheless, they seem content enough even if Mama is a bit overprotective of Maisy. Perhaps that's due to the fact that Pa wouldn't be much help in a crisis, given he uses a wheelchair and is nearly mute, heavily medicated with the painkillers that Mama dispenses on a strict schedule. It's understandable that she would be hesitant to admit the strangers who come hammering on the front door in the middle of a ferocious storm, pleading desperately for help after they've been in a car accident. Maisy, who clearly doesn't get out much, begs Mama to help them and soon the matriarch is performing surgery on the kitchen table, suggesting she's not just the simple farmer's wife she claims to be.
Of course, the visitors aren't the hapless travellers they claim to be either. Jack (Neil Linpow, also the film's screenwriter) and Matty (Harry Cadby) are brothers who were involved in some kind of robbery, but the escape has gone wrong now that the car has crashed. Older brother Jack is the one who Mama operated on, and soon he's unfeasibly mobile and ready to roll on after the removal of what looks like a significant length of rebar from his gut. When he and Mama go to the crash site to retrieve some vitally needed bags, highly strung and emotional Matty grows closer to Maisy; his recent confinement to a psychiatric institution comes out when they tune into Maisy's secret radio and learn Matty is wanted for the murder of a nurse.
All manner of shocking secrets about everyone come tumbling out, in what turns into a melodrama of familial dysfunction on an operatic scale. The core conceits, once they're fully revealed, are somewhat credulity-stretching but somehow the cast makes it work, with a sturdy assist from director Matthias Hoene who turns up the tension with skill. Richardson, presenting as glamorous and scarily fierce, anchors the film with poise while Linpow holds his own and proves adept at making unnervingly realistic squeals and howls of pain.