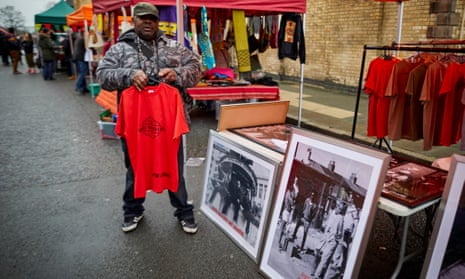 Leroy Cooper, photographer whose arrest led to Toxteth riots, dies
Cooper was arrested after going to aid of fellow protester in 1981 and went on to photograph Liverpool life
The Liverpool photographer Leroy Cooper, whose arrest led to the Toxteth riots in 1981, has died aged 62.
Cooper, who was also a writer and activist, was arrested in front of protesters after he went to the aid of a fellow Liverpool resident in July 1981.
His treatment by Merseyside police led to violence in which three officers were injured and was the catalyst for nine days of rioting in Toxteth.
In the years after his arrest, Cooper trained as a photographer and took more than 250,000 images, many of which helped to counter the negative depictions of the area.
The Guardian understands Cooper was found dead at home on Friday and the cause of death has yet to be established.
The Museum of Liverpool, where Cooper's work is on display as part of his Liverpool Through the Lens exhibition, paid tribute to the photographer.
"We are deeply saddened to hear of the passing of Leroy Cooper, a photographer, writer and activist whose love for Liverpool and the L8 community emanated from his work. Our thoughts are with his family and friends," the museum tweeted. It said Cooper's exhibition would run "in his memory" until 31 March 2024.
The Labour MP Kim Johnson, whose Liverpool Riverside constituency includes Toxteth, said Cooper's "beautiful pictures" showed his affection for the area.
She wrote on Twitter: "Desperately sad news about Leroy Cooper: the man whose arrest sparked the 1981 Toxteth Uprising, spent the next 40 years taking beautiful pictures that reflected his love for his L8 community.
"Love and thoughts with his family and friends. RIEP Leroy."
Fellow Liverpool artist and social justice activist Sonia Bassey also paid tribute, tweeting: "So sad to hear of Leroy Cooper's passing. Your legacy lives on Leroy in your exhibition at @NML_Muse. The original funky dread. Fligh [sic] high."
Cooper previously told BBC North West Tonight: "I think after Liverpool's connection with black people over 300 years it is a very important moment in the city," adding: "I genuinely love the people of Liverpool."
The 1981 civil disturbances were a result of rising tension in the area because of police stop-and-searches on young black people. The violence escalated into riots, during which police used teargas for the first time in England.