Lindsay Lohan's comeback in Falling for Christmas puts Netflix in a strong position but there are countless hunks-in-plaid yuletide romcom options this year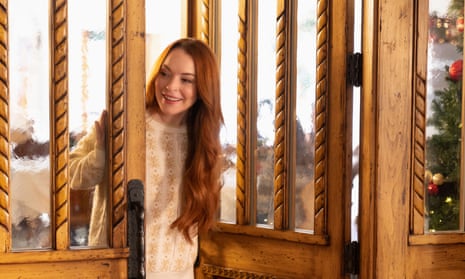 Some say that Christmas is about goodwill to all men, but screw those guys. If you know even the slightest amount, then you know Christmas is all about being a hard-nosed, big-city gal who gets stranded in her rural home town and, while initially resistant to her surroundings, slowly falls for the charms of small-town America while developing a heady crush on a wholesome, plaid-clad local man.
This, after all, has been the exact plot of several hundred Christmas TV movies over the years. By this point it is an unbreakable blueprint, and this year is no exception. Sky Cinema, for example, is about to unveil This is Christmas; a film about an uptight city woman who slowly falls for the charms of a wholesome, knitwear-clad stranger who invites everyone on his commuter train to a Christmas party. Does it look good? Absolutely not. Will you watch it one rainy Saturday afternoon in December, slightly tipsy on mulled wine, and cry at the end? Very possibly.