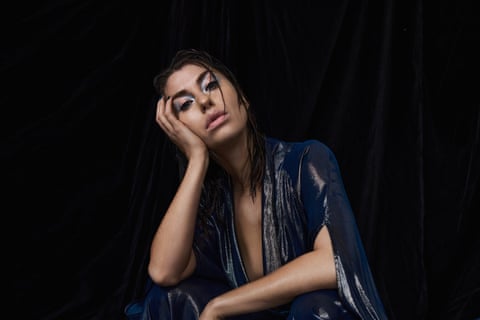 'It's a pretty lonely life' … Kimbra. Photograph: Cybele Malinowski/The Guardian
At just 21, the New Zealand musician became famous for her part in smash-hit song Somebody That I Used to Know. So what happened after?
Lately, Kimbra has been thinking about her anxiety. It's something she's long struggled with but has begun to take more seriously as an adult. "I have a really challenging career, so sometimes I [feel like], why me? Then I'm like, well, it makes sense," she says, her native Kiwi accent dulled by years of living in the US. "Any young woman who was thrown into the spotlight young, who has to think every day about how they appear, to be scrutinised, and has a lot of people putting money into their career – obviously, I'm going to be susceptible to anxiety."
Kimbra Lee Johnson, who you probably know mononymously, has been in the public eye for most of her life. She began performing and making music at 11 (see the adorable clip of her declaring "one day, I'd love to be a pop star" on a New Zealand children's show). At 17, she signed a management deal with financing, part of a long game plan to get her ready to launch as an artist, "which is a huge privilege but fucking pressure as well". By the time she was 21, she had achieved the sort of success most musicians can only dream of when she appeared on the 2011 Gotye hit Somebody That I Used to Know, which topped the charts in 23 countries, was awarded two Grammys and now ranks among the bestselling digital singles of all time. Her debut album, released soon after, went platinum in Australia and New Zealand and proved her flair for creating interesting, left-of-centre pop songs that are more Björk than Britney Spears.