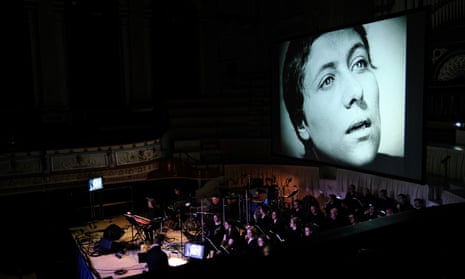 The score clings to her face like a shadow … Renée Jeanne Falconetti in The Passion of Joan of Arc.
 Photograph: Brian Slater
Town Hall, Huddersfield
The mercurial composer's brilliant score perfectly captures the raging agony and beatific ecstasy of Carl Theodor Dreyer's silent movie masterpiece
Julia Holter's mercurial career has taken her from traditional pop to chamber music, indie to electronica, the avant grade underground to the Top 20 and recently to film scores. Here, the Los Angeles-based composer has teamed up with the 36-strong Chorus of Opera North for the world premiere of her new live score for Carl Theodor Dreyer's 1928 silent movie masterpiece, The Passion of Joan of Arc. Holter initially performed a live soundtrack to the film in LA in 2017. This Huddersfield Contemporary Music festival performance was delayed for two years by the pandemic, but Holter kept writing, completing most of this finished score this year.
The newly restored subtitled black and white film – telling the story of the French saint's religious persecution and execution with a script derived from minutes of her 1431 trial – is shown above the stage. Holter, behind a keyboard, sits with the chorus and musicians. A sense that anything could happen is reinforced by the provision of earplugs, and signs reading "This performance will be loud". It begins with a hush, as a mournful trumpet is gently augmented by a percussionist to create a funeral, death-march effect.