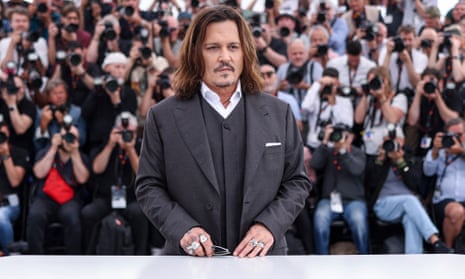 Johnny Depp on comeback trail in Cannes amid criticism of festival organisers
With protesters banned, the premiere of Depp's first film in three years saw him receive a seven-minute standing ovation – but opponents argue he is being given a free pass
The protesters were banned, the red carpet rolled out and Johnny Depp strolled into Cannes like a conquering hero. He blew kisses, shook hands and briefly dabbed at his eyes. He received a standing ovation that lasted nearly seven minutes. "For a couple of seconds it scared me," the actor told reporters afterwards. "It was like being stuck in a loop. The energy of the reaction, it just seemed to go on and on."
Depp is in town for the premiere of Jeanne du Barry, the opening picture of the Cannes film festival. For his supporters the visit marks the first step in the redemption of a one-time Hollywood superstar, still bruised from an ugly legal battle with ex-wife Amber Heard and struggling to repair his damaged reputation. His opponents, however, view it differently. They accuse the festival of effectively handing a free pass to an alleged domestic abuser.
Shot by French actor-director Maïwenn and partly backed by Saudi cash, Jeanne du Barry is a busy historical romp that casts Depp in the role of lovable, lusty King Louis XV. But the film risked being relegated to the role of a casual bystander in a wider, off-screen storm as the 59-year-old arrived – fashionably late – to face the international press. Jeanne du Barry is Depp's first leading role in three years. As a result of Heard's allegations of abuse – which Depp denies – he was dropped from the lucrative Fantastic Beasts franchise and shunned by the major US studios. At Cannes, though, he appeared keen to frame himself as a victim of groupthink and cancel culture.
"Do I feel boycotted by Hollywood?" he said. "Well, you'd have to not have a pulse not to feel that way. Of course, when you're asked to resign from a film because of [allegations] that's just vowels and consonants floating in the air, you do feel a bit boycotted. But I don't think about Hollywood. I don't have much need of Hollywood, because it's a weird time [there]. Everyone wants to be themselves, but they can't, because they feel they have to fall in line."
The city of Cannes has banned public protests this year, forcing Depp's critics to take their objections online. In the run-up to the festival, the journalist Eve Barlow – reportedly a friend of Heard – launched a social media campaign, #CannesYouNot, which charges the event with "supporting abusers" and posted pictures of Depp alongside images of Harvey Weinstein and Roman Polanski, both regular Cannes fixtures in previous years. Elsewhere the recently retired French actor Adèle Haenel published an open letter that claimed the festival has a history of institutionalised misogyny.
On the eve of Depp's arrival, festival chief Thierry Frémaux pushed back on the criticism, insisting that the actor had a legal right to be in Cannes. "If Johnny Depp had been banned from acting in a film – or the film itself was banned – we wouldn't be talking about it here," he said.
Depp, for his part, dismissed the allegations against him as "abstract whispers". He added: "The majority of what you've read about my life these past five years is fantastically, horrifically written fiction."
He appeared to be on safer ground when discussing the merits of Jeanne du Barry, which necessitated him acting entirely in French. "My first question to Maïwenn was: 'Maybe you want to try a French guy?' he recalled. "So I thought it was very brave of her to choose some hillbilly from Kentucky to play Louis XV."
In addition to promoting Maïwenn's production, Depp is in Cannes to raise financial backing for a biopic of the Italian painter Amedeo Modigliani. His future is uncertain. His career may bounce back. "I've seen the word 'comeback' being used," Depp admitted. "And I keep wondering about that, because I didn't really go anywhere. Maybe people stopped calling me out of fear. But I didn't go nowhere. I've been sitting around."