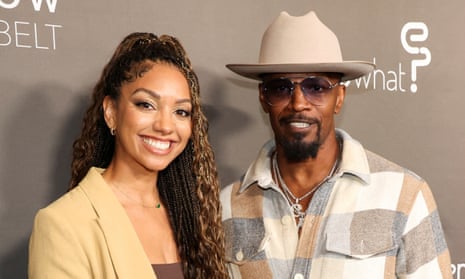 Jamie Foxx released from hospital and 'recuperating', says daughter
Corinne Foxx shares update after criticising media for running 'wild' with rumours actor was taking a turn for the worse
Jamie Foxx is out of hospital after an unknown "medical complication".
The Oscar-winning actor and singer's daughter Corinne Foxx shared an update on Instagram after unsubstantiated reports that the 55-year-old's condition had worsened.
"Sad to see how the media runs wild," the 29-year-old actor wrote in a story. "My Dad has been out of the hospital for weeks, recuperating. In fact, he was playing pickleball yesterday! Thanks for everyone's prayers and support."
The star of 47 Meters Down: Uncaged and Dad Stop Embarrassing Me! also added that an "exciting work announcement" was on the way.
Foxx, who won the best actor Oscar for music biopic Ray, was initially taken to hospital while filming the Netflix comedy Back in Action in April. His daughter shared that he had "experienced a medical complication" but was in good hands. "Luckily due to quick action and great care he is already on his way to recovery," she wrote. "We know how beloved he is and appreciate your prayers. The family asks for privacy during this time."
Foxx's hosting gig on the gameshow Beat Shazam was later taken over by Nick Cannon. On 3 May, he expressed his gratitude to Cannon on Instagram while also sharing a brief update. "Appreciate all the love!!!" he wrote. "Feeling blessed."
Recent reports alleged that the star's family were "preparing for the worst" but were without concrete support. Earlier this week, Corinne Foxx shared an undated commercial of the two promoting a laptop.
After he was hospitalised, Back in Action continued filming with stand-ins and body doubles for Foxx, and has reportedly wrapped. The film is directed by Seth Gordon, who worked with Foxx on the 2011 comedy Horrible Bosses, and co-stars Cameron Diaz in her first screen role in nearly a decade.
The star of Collateral and White House Down will also next be seen alongside John Boyega in the sci-fi comedy They Cloned Tyrone.