'Interest is off the scale': Cornish cinema fans snub Avatar for local folk horror
Mark Jenkin's unsettling Enys Men, follow-up to his cult movie Bait, plays to packed-out houses before nationwide launch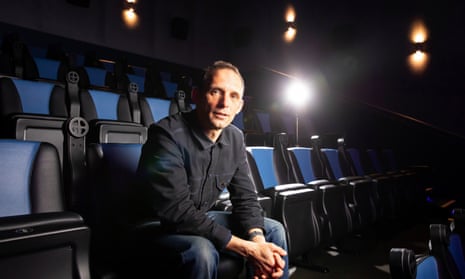 Cinema fans in the Cornish town of Bodmin had three options: the behemoths of Avatar and I Wanna Dance With Somebody – or a mind-bending folk horror shot down the road on 16mm film with a tiny budget that would make most Hollywood directors shudder.
By a considerable margin, for this one night at least, the patrons of the Capitol shunned James Cameron and Whitney Houston in favour of the latter, Enys Men, an unsettling, time-slipping movie that tackles big themes – loneliness, grief, fear – belying the modesty of its production.
The film by Mark Jenkin, the follow-up to his cult arthouse black-and-white movie about fishing and second homes, Bait, has been playing to packed houses during an opening tour of the south-west of England before its UK launch.
"It's brilliant to see," said Alex Jones, the operations manager of Merlin Cinemas, which runs the Capitol and other small cinemas mainly in English coastal and market towns. "Interest is off the Richter scale. This is going to be a huge hit not just in Cornwall but across the country. We're definitely going to have to find more space for it in our cinemas."
Enys Men's first night on Monday at the Newlyn Filmhouse, which is housed in a 19th-century fish cellar and smokery, sold out within hours.
In subsequent days, screenings were packed in Penzance and Truro, and disappointed people were being turned away from the Bodmin show on Thursday night. The Regal in Redruth has put on an extra screening this month to meet demand.
The tour, promoted with a Cornish-language poster and featuring a question-and-answer session with Jenkin, now heads out of Cornwall with Saturday's screening at the Watershed in Bristol also sold out.
During the Q&A at the Capitol, Jenkin said he was delighted that so many people had braved a rainy, windy January night to watch his film.
He described how it had been shot in 21 days on the far western tip of Cornwall during a Covid lockdown with a tiny cast and crew. Jenkin said the film was not a horror in the traditional sense but, for him, focused on "the horror of time not making sense", which felt particularly pertinent during the Covid lockdowns.
In the film, Jenkin's partner, Mary Woodvine, plays a wildlife volunteer whose daily observations of a flower on a Cornish clifftop take a dark turn into the strange and metaphysical. She drops stones down a scary old mineshaft; an eerie standing stone stands sentinel over the action.
Jenkin said his inspiration had been the Pipers standing stones in west Cornwall, where he grew up. "I was really haunted by the Pipers. I'd look through the gateway and I'd think they'd moved slightly. I like the idea of a sentient stone."
The Covid restrictions reined in some ambitions, including a plan to fill a Cornish miners' chapel with hundreds of extras for a key moment. Instead they had to film in a tiny chapel with just two characters, Woodvine and her father, John Woodvine, who plays a preacher. "It made it a much more intimate scene," said Jenkin.
An important element in Jenkin's film-making is its low environmental impact. The average big budget film is said to generate about 3,000 tonnes of CO2. Enys Men created 4.55 tonnes, which it offset.
Jenkin said working with a tight crew and cast "in our own backyard" meant the production had left a very small footprint. He said the idea was to "borrow space" to film rather than taking it over.
Of course, the film cannot compete with the likes of Avatar over time but Kingsley Marshall, the head of film and television at Falmouth University, said it would find an audience.
He argued that Enys Men felt like a truer representation of Cornwall than the picture-postcard version usually presented in big budget films.
Speaking at the Capitol as Avatar rumbled away, Marshall said: "We often see Cornwall misrepresented in film. There's a connection to real working environments in this, to Cornwall's post-industrial landscape. And there's a lot going on that resonates with us all – we've all felt isolated or grief or confused by our memories or haunted by our past. People connect with that."