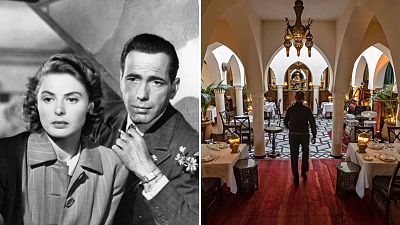 In an old courtyard-style mansion in the Old Medina of Casablanca, tourists are flocking to experience the spirit of Humphrey Bogart's iconic fictional nightclub, 80 years after the classic wartime film Casablanca hit the silver screen.
The Moroccan port city entered the cultural imagination of the United States at a key point in World War II, thanks to the moody romance starring Ingrid Bergman as Ilsa Lund and Bogart as Rick Blaine.
It remains one of Hollywood's most beloved works – but the film is more than just a love story set in Morocco.
Just days after its initial screening on 26 November 1942, American forces snatched Casablanca from Vichy control during Operation Torch, a string of allied landings in North Africa that helped change the course of the war.
The film (almost accidentally) gave allied forces a propaganda boost as they gained control of North Africa, which became a springboard from which to liberate western Europe