In praise of Joe Pesci, the consummate supporting actor
A new season of films celebrates the co-star of Goodfellas and Home Alone and his ability to do a lot with very little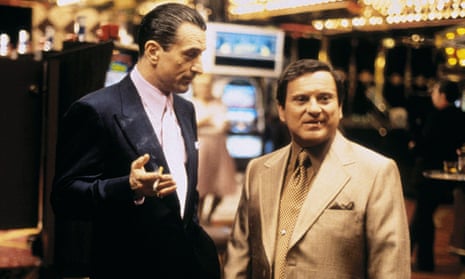 It's easy enough to forget that Joe Pesci once starred in movies – he's more or less retired from film acting, giving a total of three on-screen performances in the past 24 years.
Following his exemplary 1990, when he appeared in one of the most acclaimed movies of the year – Goodfellas, for which he later won an academy award – and in the highest-grossing film of the year – Home Alone – Pesci booked a number of top-billed roles, often capitalizing on his facility with slapstick comedy, his Scorsese-bred gangster attitude, or both. Some worked; many didn't. Pesci remained in demand, but by the decade's end, he stepped back from movies, unofficially retiring with his status as a character actor who got an unlikely shot at stardom.
There's no shame, however, in Pesci's skill as a supporting player. That's emphasized in Also Starring … Joe Pesci, a film series running at the Metrograph in New York this month, celebrating Pesci's work primarily through his supporting performances. The program is screening his less signature work from the 80s (Easy Money, Eureka), most of his Scorsese collaborations (Goodfellas, Casino and his one recent performance in The Irishman) and one genuine starring vehicle, which I'll get to in a moment.
Pesci's Oscar for Goodfellas – as best supporting actor, naturally – was both a worthy recognition and a prelude to a pigeonholing, as Oscars so often are. As Tommy DeVito, Pesci plays volatile sideman to the more controlled burn of his frequent on-screen partner Robert De Niro, as well as the film's younger narrator, Henry Hill (Ray Liotta). In his most famous scene, Pesci essentially confronts the other characters over his own scene-stealing: "Funny how? What's funny about it?" he demands to know when Henry tries to compliment him on a well-told story. After a minute, Tommy relents, and everyone laughs about it, but the scene still feels like a warning from Pesci: don't trust that this mouthy, magnetic guy is going to settle into comic relief. Indeed, he doesn't: another round of barroom joshing ends with Tommy murdering a lackey in cold blood.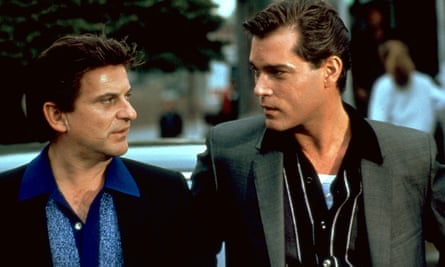 Yet even this unpredictability could be reframed as routine. Pesci's subsequent work in Casino was, along with the rest of the film, unfairly dismissed as Imitation Goodfellas at the time of its 1995 release. It is true that his Casino character, Nicky Santoro, shares Tommy's hair-trigger temper – though the trigger is less literal, with tools as varied as a vice and a ballpoint pen. Moreover, there's a grasping desire beneath Nicky's ruthlessness that goes beyond a violent impetuousness. This is a man fully in control of his worst impulses. When Pesci returned to Scorsese in 2019, those impulses looked unexpectedly rational, if still sometimes pitiless. No actor who takes 20-year breaks from cinema will seem like he has much to prove, but Pesci's work in The Irishman does quietly show off his range: rather than the blustery, pugnacious bag man, he's the gangster who exudes menace without raising his voice. In all three of his Scorsese movies, he's adept at playing men who are unwilling, unable or unneeded to undergo a leading man's change. They are fully themselves, and able to reflect the difficulties of the films' actual protagonists.
The value of Pesci's support isn't exclusive to Scorsese masterpieces, or even to movies that are particularly good. Easy Money, a ramshackle, sometimes appalling 1983 vehicle for Rodney Dangerfield, doesn't have the discipline to form a genuine comic duo between the weathered standup and his younger, less wisecracking sidekick. But Pesci nearly makes it happen by sheer force of will, all while remaining the most consistently grounded and believable element of the movie.
He and Dangerfield are both playing Italian-Americans out on Staten Island, comfortable in their purportedly lowlife indulgences (gambling, drinking, pizza, etc.); it's up to Pesci, the genuine Italian-American of the two, to confer some whisper of authenticity on the proceedings. Contrary to some of his later comedies, Pesci underplays here, and the few bits and pieces of the movie that actually work, like a scene where he and Dangerfield showily "browse" through a fancy department store whose staff obviously wants them to leave, can be attributed to the pair's needling familiarity. A more obscure Pesci performance from 1983 is also showcased at the Metrograph, in Nicolas Roeg's peculiar psychological thriller Eureka. Pesci is particularly restrained as a mobster charged with extracting a deal to build a casino on a Bahamian island owned by the world's wealthiest man (Gene Hackman); he delivers his lines with an evenhanded, deliberate quality you might sooner expect from Harvey Keitel.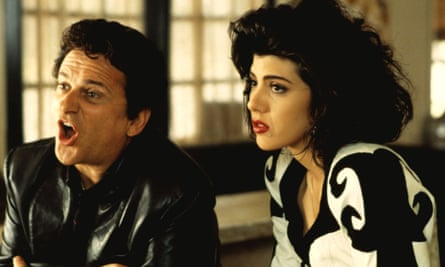 Pesci's leading performances are more informed by his work in Goodfellas – and, to a greater extent, Home Alone, where he sputters and rants like Yosemite Sam as a nine-year-old outwits him at every turn. His most notable leading turn is also featured at the Metrograph, positioning My Cousin Vinny as the exception that proves the rule. Pesci does take the spotlight as a bumbling New York lawyer brought in to defend his cousin on murder charges down in Alabama. But the comedy works as well as it does because Pesci, even in his most blustery scenes, knows the value of give-and-take with his co-stars
That's never more apparent than in his scenes with Marisa Tomei, playing Vinny's brassy and long-suffering fiancee. Tomei lights up every moment she's on screen, but there's no sense of her stealing those scenes, because they feed on each other's energy. Their final duet, a courtroom scene in which their in-progress lovers' quarrel gives way to exuberant cross-examination and testimony from Tomei's car expert, builds that into Pesci's performance: he's goading Tomei into showing off, and seemingly delighted to do so. She won a much-deserved Oscar – for best supporting actress, naturally. Pesci is such a consummate supporting player that even in his greatest starring vehicle, he shares the driver's seat.