'I'll never drink like that again': Kathleen Turner on booze, health and falling in love with Michael Douglas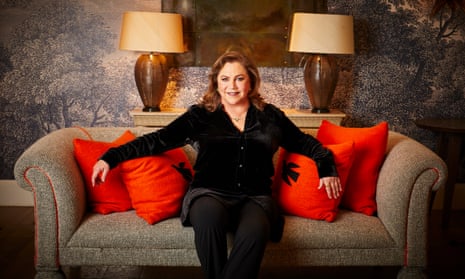 Body Heat made her a star in the 80s. Then, after a string of hit movies, illness forced her to take a step back. The actor talks about her fights with directors, her rage at white male privilege and her return to the screen as a foul-mouthed political lobbyist
Kathleen Turner is pondering her acting career, a smile playing on her lips. "I'm becoming legendary, which I think only means that I have been around that long," she purrs regally. It is, after all, more than 40 years since Lawrence Kasdan's erotic thriller Body Heat turned her into one of Hollywood's most in-demand stars.
Now, at 68, she's coming to TV screens with White House Plumbers, playing Dita Beard, a foul-mouthed lobbyist involved in the Watergate scandal that ruined president Richard Nixon in the early 1970s. HBO's new political drama revolves around E Howard Hunt (Woody Harrelson) and G Gordon Liddy (Justin Theroux), two members of a covert White House special investigations unit. They were supposed to protect the presidency, but they ended up bringing it down.
Beard is a true survivor, says Turner, video-calling from her home in New York. She "was the one that blew the whole damn thing open, then tried the most fantastical ways to get around it". These included faking heart attacks. "She's the only one who ended up well, with a horse farm in Virginia, where she lived happily ever after with her daughter. As opposed to everyone else, who pretty much ended up in jail."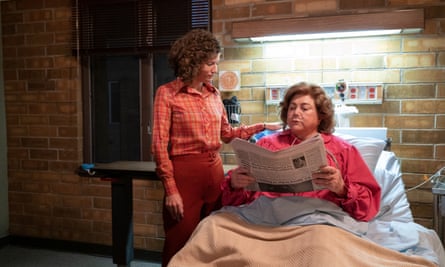 While Watergate dominated politics 50 years ago, Turner describes the show as "very pertinent" to what's happening today. "I'm always intrigued by this political stupidity, which has been going on for years: that you can say something, and it can be a flat-out lie, yet you expect people to believe it. It's just extraordinary to me. I mean, this whole Trump business with the endless, consistently disproven lies, it's just fascinating. Who thinks like this?"
On screen, Turner is magnetic – fierce, bold and sultry, with an impeccable sense of comic timing to match that oh-so-husky and commanding voice. There's nothing more satisfying than watching her deliver a killer one-liner. As mysterious Matty in 1981's Body Heat, she was powerfully seductive, coolly flirting with William Hurt by telling him: "You're not too smart, are you? I like that in a man."
It was her first film role, after a stint on the schlocky soap opera The Doctors made her a sex symbol overnight. She followed this up by poking fun at the femme fatale trope in the wacky comedy The Man With Two Brains, opposite Steve Martin. A few years later, she would parody it again by voicing Jessica in the animated whodunnit Who Framed Roger Rabbit.
From the start, Turner has tried her hardest to avoid being typecast. She leapt from playing a mousy novelist in 1984's Romancing the Stone to a prim fashion designer moonlighting as a sex worker in Crimes of Passion and then a time-hopping housewife in Peggy Sue Got Married (which earned her an Oscar nomination). Is there a common thread that ties her roles together? "It's rage," she says. "I was so angry at the shit that goes down – the white male privilege crap." Disgust laces each word. "Somebody sent me an interview that I did 35 years ago. Everything I said in that, about equal pay, protecting women's rights and health, I am still saying today, so one can get discouraged."
Turner has always stood up for herself, channelling her rage into action. She hated the script for Romancing the Stone's sequel The Jewel of the Nile and tried to get out of making it (she was threatened with a $25m lawsuit but eventually came to a compromise with co-star and producer Michael Douglas). She dug her heels in, too, when director Ken Russell asked her to do a nude scene in Crimes of Passion.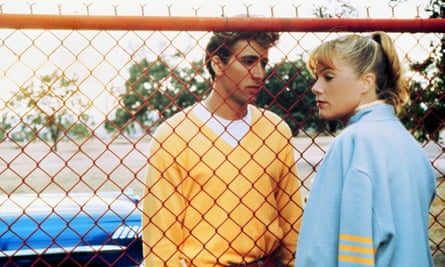 "I learned very early that I had to have script approval," she says. "They couldn't make changes without consulting me. I learned that my first time in Los Angeles doing a screen test – the script they gave me in New York was not the script they gave me in LA. It was a women's mud wrestling film. We had to put on bikinis and get sprayed with oil. So I went to the bathroom, got a roll of toilet paper, slapped it on my shoulder and hip, and wrote Miss Missouri across it." She lets out a cackle of pure glee. "I got out of the audition."
But speaking up earned her a reputation for being difficult. Is there any truth to it? "Being decisive, knowing what I want, is too much of a male characteristic, so therefore I must be difficult," she says. "Listen, if you talk to anyone who's actually worked with me, you'll never hear that."
Turner's parents didn't approve of her choice of career. The third of four children, she was born Mary Kathleen Turner in Springfield, Missouri, to a mother and father who both worked for the US Foreign Service. They lived in Cuba and Venezuela before moving to Britain when she was a teenager. There, Turner started acting while studying at the American School in London. One week before she graduated, her father died of a coronary thrombosis. He was, she says, "an extremely disciplined, in some ways rigid man. He had no idea what acting was. He equated it with being a streetwalker."
She studied theatre at Southwest Missouri State University and the University of Maryland, moving to New York in 1977. When she started auditioning for commercials, Turner realised her distinctive voice set her apart. "Right away, they told me I would have trouble getting a job because of my voice. Well, I wouldn't trade it for the world. You kidding? I love it!" In her 2008 memoir, Send Yourself Roses: My Life, Loves and Leading Roles, Turner writes about making her voice even deeper. How did she do that? "Exercise. Run the scales, push it lower and lower. It's a muscle."
Some of Turner's most memorable roles have been alongside Douglas in Romancing the Stone and The Jewel of the Nile – fun, Indiana Jones-style action adventures – and The War of the Roses, a devilishly spiky black comedy about feuding exes. Their chemistry on and off the screen was electrifying. While on location in Mexico for Romancing the Stone, it threatened to spill into real life. Turner was single, while Douglas was separated from his first wife, Diandra Luker.
"I think we might have been falling in love," says Turner. "But then Diandra flew down and made it clear that she did not consider Michael to be available. So that ended that because I can't get involved with another woman's relationship. But oh my, that attention is delicious!" How close did she get to dating Douglas? "None of your business," she drawls. As the shoot came to an end, she met Jay Weiss, a property developer, and married him in 1984. The couple, who divorced in 2007, have a daughter, Rachel, a singer-songwriter.
Turner reunited with Douglas as the ex-wife of his acting coach on Netflix comedy series The Kominsky Method, which ended in 2021. "He's such a good friend. It made it very easy to play ex-husband and wife. In a funny way, we were. Not that I ever married the man – never would have, never could have!"
After a string of box office hits in the 80s, Turner was flying high and "having a ball". But then she was diagnosed with rheumatoid arthritis, an autoimmune disease that affects the joints and organs. She was filming the black comedy Serial Mom in 1993 when she realised her feet were so swollen that she couldn't fit into any of her shoes. Soon the illness became completely debilitating. "I couldn't walk. I couldn't hold a glass. The only way I could go up and down stairs was on my butt, pushing myself. The pain is very bad because there's no way to sit, lie or stand that allows you to escape it. People don't understand because it's not life-threatening. It will not kill me, but it kills your life."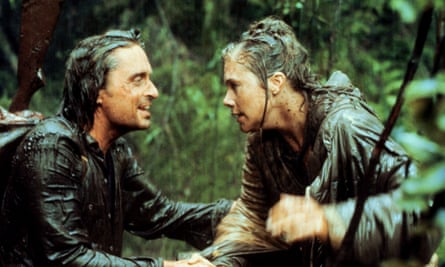 She started avoiding lead parts, plumping for smaller, less demanding roles. Did her illness derail her career? "Yeah, but I wouldn't accept it. I am a very stubborn woman. I got back to full strength, as full as I would ever be again. They told me I would be in a wheelchair for the rest of my life. Now, that was almost 30 years ago. And I look at what I've done in 30 years and I think: 'Well, go to hell!'"
The steroids and pain medication she took to treat the disease made her gain weight and certain corners of the press would savagely pick apart her appearance. Rumours spread that she had a drinking problem. Turner says she felt "complete betrayal", but refused to publicly disclose what was wrong with her. "It was self-defence not to discuss this mysterious disease. They would hire drunks or even drug addicts all the time." But she was convinced no one would cast her if they knew what was really wrong with her. "Better to be quiet and let them think whatever the hell they wanted to. But it hurt a lot."
Alcohol eventually became a real problem, however, as Turner drank to ease the pain of her illness, although she was careful never to drink while working. Still, she says: "It was incredibly stupid. I had this thing in my head where I thought: 'I'm not taking pain pills – they are addictive and dangerous.' But it was OK to have that second or third vodka." Until she had a sudden burst of clarity. "I thought: 'I am wasting my entire day with my daughter, with my husband, because I'd close myself down and drink.'"
She checked into rehab in 2002, where she recalls meeting fellow patients, former doctors and nurses, who told her they had killed somebody because of their "inattention". "I couldn't see that in myself at all. I thought: 'OK, it's not me. I'm not an alcoholic, but I am an abuser [of drink].' So I stopped drinking for a couple of years." Nowadays, she has a cocktail when she feels like it. "I don't imagine I'll ever drink like that again. But then I don't have that amount of pain, either."
Turner is now in remission from rheumatoid arthritis, although she still has flare-ups. She has worked steadily over the years, gravitating to theatre, where there are better roles for older women. When she was 46, she played Mrs Robinson in a West End production of The Graduate, stripping off every night on stage. She even created her own one-woman cabaret show, Finding My Voice. There have also been appearances as an overprotective mother in the film The Virgin Suicides and a sexually voracious talent agent in the TV comedy Californication.
Fans of the sitcom Friends will remember her from 2001 as Chandler's parent Charles, who performed as drag queen Helena Handbasket. The show's co-creator Marta Kauffman confirmed last year that the character was a trans woman, although other characters referred to her as Chandler's father. "There was no question of casting a trans person or a drag queen – it was never considered," says Turner. "It never crossed my mind that I was taking a role from someone." Would she say yes if she was offered it today? "Probably not. But I certainly don't regret having taken it. It was a challenge!"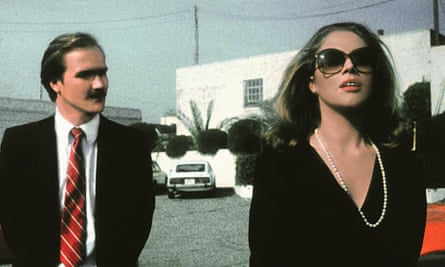 When she's not filming, Turner teaches acting at various universities in the US. She reads "endlessly" and likes to hold poker nights with her female friends, where they eat sushi and drink bourbon. "I don't lack interests," she says. "I would like to be more active physically. But at the moment I'm having a bad flare-up."
Turner once said that turning 60 freaked her out. Now that she is approaching her 70s, how does she feel? "I talked to Maggie Smith about that." Adopting an impeccable English accent, she mimics the 88-year-old British star. "She said: 'Darling, every age just seems so young now!' You think: 'OK, she's done some of her best work in later years.'"
She sounds inspired and then, suddenly, pensive. "Part of me goes: Jesus, do I get to stop working at some point? On the other hand, I can't imagine not working. So there you go."
White House Plumbers is coming soon to Sky Atlantic and Now, and will screen on Foxtel in Australia in March