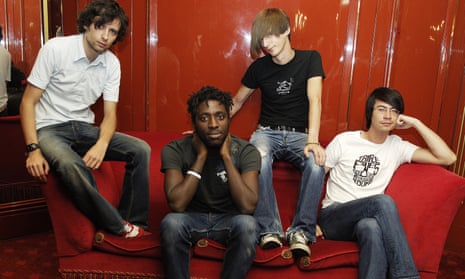 'Beyond the idea of making indie-disco music for students to sink pints to' … Gordon Moakes, Kele Okereke, Russell Lissack and Matt Tong in 2005. Photograph: Sarah Lee/The Guardian
As US pop-punk band Paramore claim the London band as the primary influence on their new album, we look at how Bloc Party bridged the gap with emo – and continue to inspire young artists today
When emo legends Paramore made their comeback with new single This Is Why in October, something about its blend of danceable guitar work and lyrical anxiety felt more than a little familiar. Speaking on her BBC podcast Everything Is Emo, frontwoman Hayley Williams revealed an unlikely source of inspiration for her band's new direction and, indeed, their career as a whole.
"From day one, Bloc Party was the number one reference because there was such an urgency to their sound that was different to the fast punk or the pop-punk or the loud 'wall of sound' emo bands that were happening in the early 2000s," she said. "They had their own thing and it really stuck with us … it just makes me feel even more excited to get back out into the world, and maybe cross paths with the band that has been a huge part of our story."
As it turns out, Williams wasn't willing to leave things to chance: early next year, Paramore will be taking Bloc Party out as main support on multiple legs of their sold-out 2023 world tour. It crystallises something that has been percolating over the past few years. Although Bloc Party may have faded from mainstream view in the mid-2010s, in 2022, a generation of new alternative artists including Willow, Genesis Owusu and Connie Constance are tapping into the indie disco heroes' legacy.
Bloc Party's rise to prominence feels like a quintessentially 2000s tale. Bumping into each other at the 1999 Reading festival, friends Russell Lissack and Kele Okereke decided to start a band, putting an ad in the NME in search of a Joy Division-loving bassist, eventually recruiting drummer Matt Tong after eight other contenders didn't quite fit the bill. They broke through after delivering demo CDs and polite letters to Alex Kapranos of Franz Ferdinand as well as Steve Lamacq, who promptly declared them "genius".
Channelling the spirit of Radiohead's OK Computer, Bloc Party imbued their early work with a distinctive velocity. They borrowed from the dance-punk that was making stars of the Rapture and LCD Soundsystem over in the US, matched the catchiness of their commercially minded peers and extended their reach into other realms, such as house, grime and R&B. Okereke was a fan of hip-hop producer Timbaland (see the band's excellent 2009 Live Lounge cover of Nelly Furtado's Say It Right), and his omnivorous tastes meant that Bloc Party appealed to the open-minded listener, whether they were a hardened Gang of Four fan or a desert scarf-wearing, glowstick-toting underage raver.
For teens in the mid-2000s, Bloc Party were part of your average NME starter pack: Franz Ferdinand, Kaiser Chiefs, Hard-Fi. But they pushed beyond the idea of making indie disco music for uni students to sink pints to, and the razor-sharp, stabbing Telecasters on their debut album, Silent Alarm, felt like a revelation. Nominated for the 2005 Mercury prize, it was celebrated as a record that felt energising yet introspective, capturing a sense of youthful ennui.
Bloc Party's second album, 2007's A Weekend in the City, made an even greater impact with its bird's-eye view of the tumultuous British political landscape. The low hum of lead single The Prayer, with its cavernous drums and unabashed earnestness ("I will dazzle / I will outshine them all"), could be considered a perfect intersection of indie and emo.