'I wanted people to inhabit my body': an innovative film about disability
In I Didn't See You There, film-maker Reid Davenport shows us what the world looks like from a wheelchair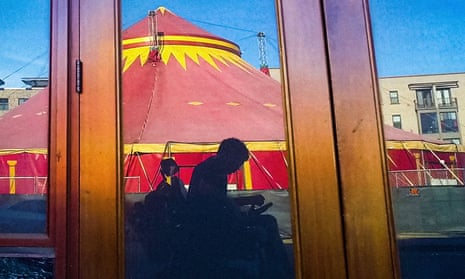 The first few shots of I Didn't See You There, an experiential documentary by Reid Davenport, herald a perspective shift: familiar urban scenes filmed at an angle rare to cinema. The camera is at average waist height, often at a tilt, and moving at the speed of Davenport's wheelchair. Manned entirely by the film-maker, either mounted to his wheelchair or handheld, the camera shows us slivers of the cityscape often missed or unavailable to an able-bodied pedestrian – the mosaic of sidewalk cracks unspooling under wheels, the brief window of time when the acceleration of a train aligns with Davenport's chair, the glossy white subway tiles that undulate into an optical illusion when viewed at his pace. Besides Davenport's occasional reflection in a storefront mirror, the only other figure centered in the frame is another person in a wheelchair.
We also see the myriad reactions – condescension, annoyance, over-deference, general awkwardness – Davenport's presence as a disabled person elicits from other people in and around his neighborhood in Oakland, California. The 76-minute film, which has had a small theatrical run and is now available for streaming on PBS, courses with an uncomfortable question: where is the line between looking and truly seeing? How little will able-bodied people consider another perspective?
I Didn't See You There generally eschews documentary convention: there are no talking heads, no re-enactments or outside context, and little in the way of plot beyond snippets of Davenport's daily life and a couple of trips to see his family on the east coast. Davenport provides the occasional voiceover, particularly regarding the legacy of the freak show after a circus tent ominously (or fortuitously, for symbolism) arrives in his neighborhood, but he never reveals his condition, which is cerebral palsy. We catch only oblique glimpses of his physical appearance – his warped reflection in store windows, his hand reaching for a glass and cleaning up a spill, feet in the shower. "When disabled people are seen, they are often not heard," Davenport, now based in Brooklyn, told the Guardian. "I wanted to do the reverse of that, where you hear me but you don't see me."
Davenport has previously directed two features on life with cerebral palsy: 2013's Wheelchair Diaries: One Step Up and 2015's A Cerebral Game, on his evolving love for baseball as a disabled player and fan. I Didn't See You There, which he began filming in 2018, was Davenport's first time behind the camera and a departure from the more structured nature of earlier films. The idea "happened in the back of my head for years, to explore with this camera. I just started shooting not really knowing what it was," he said. Mounting the camera, a small model usually used for drones, to his wheelchair offered "a lot more freedom" than previous filming experiences. "It allowed me to play around a lot and have fun in that way, and literally experiment."
"I don't think this film really lends itself to me being in front of the camera," he said of the decision to stay largely out of sight. "I wanted people to inhabit my body, so it was easier if you didn't know what I look like." Instead, we see the world largely as he sees it, with some scenes inflected by his disability (wheeling into dark passageways in search of an elevator at a Bart stop) and some not (gazing up at skyscrapers, catching snippets of tourist talk, checking Match.com).
The interactions, filmed with a deflected gaze or the jerky motion of Davenport's wheelchair maneuvering, attest to the shadow of the freak show and the blinders of the able-bodied to disability. There's a city bus employee who brusquely demands Davenport turn his wheelchair around, to the silent bafflement or detachment of other passengers. A guy nonchalantly blocking the ramp to Davenport's home with electrical cords; numerous people who block sidewalk ramps, or who dash out of his way with an over-delivered "sorry". A neighbor who introduces himself as Davenport unlocks a door with "more power to you … fucking fight through". Davenport reacts to each with a range of responses from politeness to frustration to a cathartic "fuck!" and, to the neighbor: "I mean, everyone has their shit, right?" The collection demonstrates how, as he says in the film: "I can feel it when I'm stared at and not seen."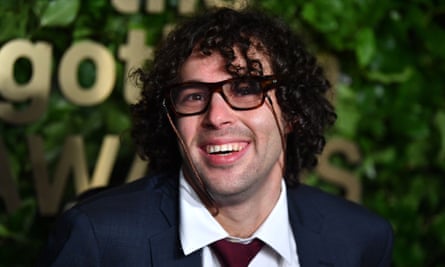 The documentary was intended, as Davenport tells his mom in one of several loosely edited scenes from visits to his hometown of Bethel, Connecticut (also the birthplace of freak show pioneer PT Barnum, a fact he grapples with throughout the film), as his last personal film. "I think there is this propensity or this expectation for disabled people to make films about themselves," he said. "That can't be the expectation. Obviously people should be able to if they want to, but also there are other issues that can't be told in this singular story structure, so I'm hoping that there are films that show disability … collectively rather than just individually."
Toward the end, the camera's near-constant motion pauses; we sit behind Davenport and his mother in an east coast backyard as the two meditate on his political bent in familiar roles. She's concerned for the effect of political engagement on his mood; he sees it as an obvious outgrowth of a politicized existence. The stillness is pointed; absent the (still limited) accessibility infrastructure of the city – Oakland is relatively accessible, but "every city is inaccessible", he said – Davenport's movement is circumscribed to the home, and to the tentative understandings that occur there.
Still, Davenport said the film itself has no broader message beyond listening. "I think my team and I have tried very hard to be nonprescriptive," he said. "I'm not trying to say something specific. I hope that the film is more of an experience rather than a film." To that end, the most indelible moments of I Didn't See You There are not so much scenes as glimpses – Davenport's hand reaching up to touch a tree branch, the pattern of a chain-link fence in motion, the low crackle of a wheelchair gliding on pavement. Snippets of one life, and a different point of view.