How Lisa Marie Presley found triumph amid tragedy
The daughter of Elvis Presley had difficulties in and out of the spotlight but found a way to strike out and succeed on her own
Children of celebrities are often unfairly placed under a public microscope, especially when the celebrity is the subject of salacious tabloid stories. Lisa Marie Presley, who died on Thursday at the age of 54 after reportedly going into cardiac arrest at her home, was acutely aware of this fact from a young age.
The only daughter of Elvis Presley, she was just a child when she recalled fans hiding in the trees and trespassing at her family's estate, Graceland. Her response was clever and defiant. "People would give me cameras to go and take pictures, and I'd take money and I'd say I was going to take a picture of my dad, and then I'd throw the camera somewhere," she told Rolling Stone in 2003.
However, Lisa Marie's childhood was also marked by tragedy. She was at Graceland in 1977 when her father died and reportedly witnessed the unsuccessful attempts to save his life. In the same Rolling Stone interview, she made it clear that (understandably) that day deeply affected her.
It's unfathomably sad to think of a nine-year-old having to witness something so traumatic, especially since she had no choice in becoming a public figure. (Among other things, in the years after her father's death, Lisa Marie was frequently in the news due to the legal wrangling around settling Elvis's estate.) Although her mother, Priscilla Presley, tried to protect her daughter from the pressures of being Elvis's daughter, Lisa Marie knew her famous name preceded her.
"I had always had a strength that intimidates people," she told Playboy in 2003. "It's a protection mechanism. In every school, the kids would automatically hate me and think I was stuck up. But I wasn't."
Yet Presley didn't distance herself from her dad's music or legacy; in fact, she always stressed she was proud of him and used her high-profile name for philanthropy. She founded the non-profit The Presley Charitable Foundation, which funds a living space for unhoused families called Presley Place-New Orleans, and supported a Make-a-Wish-like organization called The Dream Factory.
Presley grew up loving music and even performed for her father. She also appreciated his music, telling Rolling Stone she gravitated toward "the dark [songs] that weren't particularly a hit on the radio". Accordingly, she commemorated various anniversaries of her dad's death by recording somber but tender posthumous duets with him on In the Ghetto and I Love You Because.
However, Presley deliberately didn't jump into a solo music career right away. "I didn't want to learn the ropes publicly; I couldn't afford that," she told Playboy. "I knew there was going to be more attention on me that anyone else putting out a debut record."
Despite that pressure, she didn't shy away from writing about her own life on the 2003 album To Whom It May Concern. The incongruously upbeat Lights Out, a minor pop hit in the US and UK, talked about the graveyard at Graceland and "keep[ing] my watch two hours behind" in honor of her dad. The more subdued Nobody Noticed It, meanwhile, was an empathetic tribute: "All that you had to endure / I guess nobody noticed it."
Presley paired these songs with unsparing examinations of her own life. "I really went back through a lot of the dark corridors of my life in this record," she told the Los Angeles Times. "I wanted people to know who I am based on my music, not on what they read in the tabloids."
Musically, however, she also carved out her own path, working with pop-rock producers like Glen Ballard and Clif Magness on To Whom It May Concern and writing a song with the Smashing Pumpkins frontman, Billy Corgan. The result was a contemporary-sounding pop-rock album with hints of country and blues.
She largely took over songwriting duties on her second album, 2005's Now What. Although the album contained a cover of Don Henley's fame-critiquing Dirty Laundry, the collection found Presley sounding far more comfortable as a lyricist and singer. She embraced a more straightforward rock sound (including a soulful cover of the Ramones' Here Today, Gone Tomorrow) that was more suitable to her voice, which boasted a smoky, bluesy timbre. A live collaboration with Pat Benatar on the latter's Heartbreaker only reinforced her rock'n'roll bona fides.
Presley's final studio album, 2012's Storm & Grace, was another leap forward. Produced by T Bone Burnett, the record was full of dusky Americana and blues songs with intricate arrangements and a decidedly country-soul vibe. Presley also came into her own as a vulnerable vocalist, particularly on lovely, stripped-down songs like How Do You Fly This Plane?
In hindsight, it's difficult not to see the parallels between Storm & Grace and her father's music; among other things, the album even led to Presley making her Grand Ole Opry debut. "I think it's an interesting blend of a lot of different things," she told Billboard in 2012. "I don't know if you would classify it as Americana. It's bluesy. I'm inspired by all of it."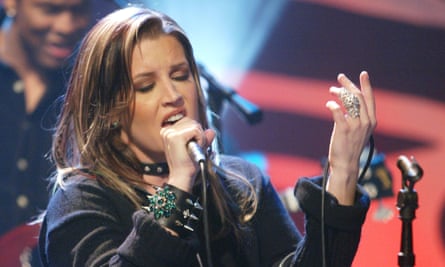 Fittingly, family ended up being central to Presley's life in addition to music. With her first husband, Danny Keough, she had two children, Benjamin and Riley. The latter has grown into a decorated actor who's starring in the anticipated streaming adaptation of the book Daisy Jones & The Six and won a Caméra d'Or at the 2022 Cannes film festival for her directorial debut, War Pony.
Unfortunately, Lisa Marie's life also later became tabloid fodder due to multiple high-profile relationships. Presley first came under intense scrutiny for her marriage to (and subsequent divorce from) the late pop star Michael Jackson, which was followed by a short-lived marriage to Nicolas Cage. This intense interest in her life extended to her religious preferences (she was a Scientologist but left the organization in 2014) and substance use (a teenage dalliance with drugs and an opioid addiction). In more recent times, she had a public custody battle with her ex-husband Michael Lockwood over her teenaged twin daughters, Harper and Finley.
Lisa Marie suffered another unfathomable loss in 2020, when her son Benjamin died by suicide. In an essay published in 2022 on National Grief Awareness Day, Presley was frank about the impact of her son's death and the immense pain she was in. Still, she stressed her resilience. "I've dealt with death, grief and loss since the age of nine years old. I've had more than anyone's fair share of it in my lifetime and somehow, I've made it this far."
Indeed, it's reductive and unfair to view Lisa Marie Presley's life as a series of tragedies. The release of Baz Luhrmann's celebrated Elvis movie was a bright spot that seemed to point to better days. Just last Sunday, Presley was at Graceland celebrating her dad's birthday, ahead of attending the Golden Globes on Tuesday night, where she crashed Austin Butler's red carpet interview.
After Butler won the award for best actor in a drama motion picture for portraying Elvis, the actor expressed gratitude to the Presley family for "opening your hearts, your memories, your home to me" and thanked both Lisa Marie and Priscilla by name. The former was visibly moved, an echo of her remarks at Graceland and elsewhere. "I think the movie was incredible," Lisa Marie said in Memphis the previous Sunday. "I am very proud of it and I hope you guys are too."