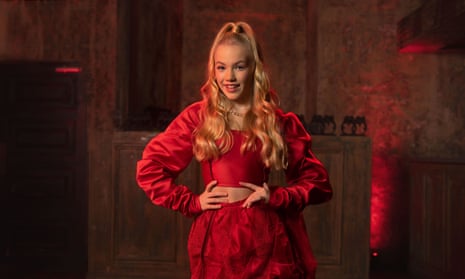 For the first time in 17 years, the UK is competing in the youth contest where singers never score nul points – as it's too cruel. Its entrants talk Instagram, viral fame – and not knowing Bucks Fizz
It was one of the TV moments of the year. In May, Ukraine's Kalush Orchestra rode a wave of continent-wide public support to claim a rousing victory at the 66th Eurovision song contest in Turin. Meanwhile, a peak of 10.6 million UK viewers watched as new national hero Sam Ryder (basically a cross between a golden retriever and Jesus) single-handedly repaired our tattered Euro reputation by finishing in a plucky second place with his anthem Space Man.
Now, Eurovision is back. Yes, already – albeit in pint-sized form. To capitalise on the competition's newfound credibility and before Liverpool hosting the main contest next year, Junior Eurovision is being shown by the BBC for the first time. Launched in 2003 for talented singers aged between nine and 14, the youth version follows the same format of the grownup event with live performances, online voting and national juries, but be warned: nobody ever scores "nul points". That would be too cruel on the kids.